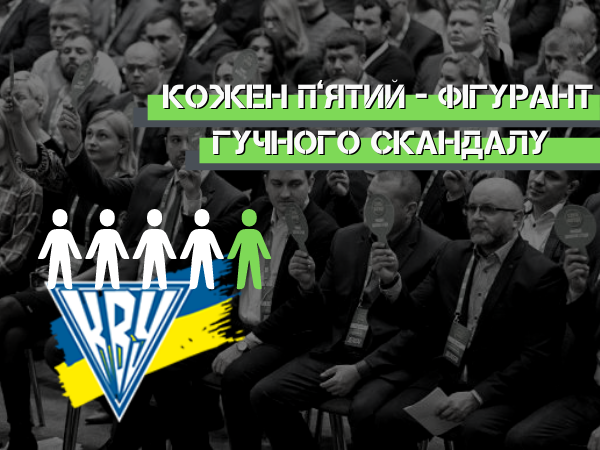 A study conducted by Ukraine's Committee of Voters watchdog group found that 'one in five MPs -53 politicians –  representing the parliamentary coalition was engulfed in some public scandal involving, in the most cases, pro-Russian rhetoric of 'Servant of the People' representatives , corruption allegations, and unethical conduct at the Verkhovna Rada.
It is unprecedented number of public scandal [involving] one parliamentary group, argues Oleksiy Koshel of Ukraine's Committee of Voters.
Among those who come at the top of the 'scandal-prone' list are Mykola Tyshchenko, Oleksandr Dubinsky, Yevheniy Shevchenko, Maksym Buzhansky, and David Arakhamia.
'Despite Zelensky's promise to part ways with scandalous MPs, most of those are still members of [Servant of the People] parliamentary group. Some politicians were hit by  several scandals over the course of two years in the parliament, adds Oleksiy Koshel, arguing that the party list of candidates for parliamentary elections was formed out of personal preferences and disregarded professional competencies.
'Ultimately, seats in the parliament went to those who had never been in politics and have no idea of basic principles of public communication'.
The list of disgraced politicians and their scandals compiled by Ukraine's Committee of Voters includes:
David Arakhamia who drew public ire over several scandalous statements – he claimed Ukraine should reclaim its nuclear weapons, warned Zelensky-Biden talks will be 'heated', and said Kyiv must renew water supplies to Crimea.
Oleskandr Kornieynko. He came under fire after sexist remarks about his fellow MP calling her 'as sturdy as ship pine'
Mykola Tyshchenko took heat for a number of public scandals. They included defience of Covid restrictions by Kyiv restaurant he owns , violations of Covid social distancing at his wife's birthday party, and questionable involvement in vote count scandal in Ivano Frankivsk.
Yevheniy Shevchenko notoriously broke the ranks by visiting Belarus notorious leader Oleksandr Lukashenko
Yelizaveta Bogutska branded Covid pandemic as  'an affair' and made offensive remarks about a Ukrainian sociologist Yevhen Golovahka
Yevheniy Bragar stirred up a controversy on a TV show cleverly offering one of the studio guests to trade her dog to 'pay utility bills'.  He also face allegations  of driving under influence.
Oleksandr Yurchenko was investigated for extorting a bribe for lobbying specific amendments to  the draft law
Maksym Buzansky who once called a reporter 'a dumb sheep' often courts controversy over his scandalous statements on Ukraine-Russia relations, historic events and language issues.
Vasyl Virastuk took an obvious misstep publicly complaining about little promotion of presidential 'Big construction' program in Ivano-Frankivsk region
Yuliya Gryshyna had an embarrassing moment mispronouncing the Verkhovna Rada.
Oksana Dmytrieva was spotted in the parliament flaunting a very expensive designer outfit.
Geo Leros traded punches iwth  Maksym Buzansky in full public view
Oleskandr Dubinsky was sanctioned by the US governmental agency over 'interference in the US presidential elections', accused fellow MPs of 'grey" salaries, and claimed his collection of luxury cars is 'his mom's as she loves speed'.
Roman Ivanisov failed to reveal his past criminal record – as a youth, he faced rape charges
Yuriy Kamelchuk known for his skeptical remarks on Covid pandemic, got her 15 minutes of fame over for  parking violation at the parliament.
Danylo Getmansev came under fire over his open lobbyism of tobacco retailers
Valerii Kohuch was caught on camera making hotel reservation in Dominican Republic  amid the parliamentary session
Olga Vasylevsk-Smaglyuk slammed coronavirus as a  'marketing policy'
Bohdan Torokhotiy allegedly approached Kyiv mayor asking to provide apartments for eight assistants from his MP office.
Margaryta Shol, Oleksanrd Gaydu, Pavlo Halimon reportedly visited a restaurant defying Covid restrictions
Oleh Arsenyuk got into a brawl in Cherkasy restaurant
Yuriy Koryachenkov was accused of illegal lobbying in Kryvyi Righ
Mykola Galushko accused the  party leaders of 'selling seats' on the party list ahead of local elections
Maryan Bezugla filed a lower value of her Kyiv property in assets declaration
Anna Kolisnyk was spotted texting 'time to get out of this coutry' in the parliament as the Ukrainian senior military official was making a report for MPs
Andriy Stykharskii picked a fight in a restaurant
Olena Kryvoruchkina faced an embarrassing moment when she was spotted sexting during the parliamentary session
Iryna Vereshchuk claimed in 2019 nobody was waiting fUkraine to join NATO and called to reconsider the policies toward the alliance.
Anna Skokhod accused the party leaders of pressure over her voting decisions
Anton Polyakov claimed he was kicked out from the party group in the parliament over his criticisms on his Telegram channel.
Oleksandr Kunitskiy was accused of lobbying his business interests in the Verkhovna Rada
Serhiy Lytvynenko and Olena Kopanchuk faced backlash over multi-voting scandal that saw them unlawfully voting for other MPs.
Andriy Odarchenko was all bruised  after a scuffle on his vacation
Anatoliy Ostapenko was spotted texting his friends during the parliamentary session
Mykola Poturayev caused disturbance in  the parliament when he said  Oppositional Plaftform for Life  members must be shot to death
Mykhaylo Radutsky got in the spotlight after media reports found him texting about his lobbying schemes
Oleh Seminsky punched a man in Chernihiv and damaged his car
Volodymyr Tymofiychuk made a gaffe when he confused the name of the region that brought him seat in the parliament and later awkwardly remarked he hadn't promised anything in his election campaign program
Oleksandr Kachura attacked the mayor of Sumy who threw a bottle of water at the MP
Oleh Voronko, Ostap Shypaylo, Oleskandr Trukhin, Stepan Chernyavsky, Pavlo Pavlish are millionaires yet they applied for state-funded housing in Kyiv.
Andriy Gerus got into a brawl with Oleh Lyashko in the lounge room of Kyiv airport
Ruslan Stefanchuk was found to use his  mother-in-law apartment in Kyiv while claiming state-funded housing
Galyna Tretyakova stirred up a controversy over her quote about 'substandard children'
Bohdan Yaremenko was spotted texting a prostitute from the Verkhovna Rada
Vyachesla Medynnyk is now  investigated by anticorruption agency over his 'promise to fix the problems with prosector's office' in his reveled correspondence