The government plans to inoculate about 24 million Ukrainians by the end of 2021, which assumes securing 47,8 million Covid vaccine doses to provide for 2-shots vaccination, says the Health Ministry statement.
For now, Ukrainian officials claim to have procured 21,913,000 doses with 8 million doses coming as part of COVAX Facility scheme, while 14 million doses are set to be provided at the government's expanse.
Vaccination calendar
April
Ukraine is to receive 1,184,000 does with 367,000 AstraZeneca doses coming from COVAX Facility, 500,000 doses to be bought by the government,  and the rest will be provided by Pfizer.
May
About 2 millions doses are to be procured and distributed. They will come from AstraZeneca (500,000 doses), Sinovac (1,500,000 doses) and are to be covered with the government funding.
June
The government is set to buy 213,316 Sinovac doses and 500,00 AstraZeneca doses. The bigger part of June supplies, 1,409,000 of AsraZeneca doses, are coming from COVAX Facility scheme.
July
The mid-summer will see supplies of 500,000 AstraZeneca doses and 948 700 of Pfizer/BioNTech doses, with the latter to be procured through COVAX Facility scheme. The total number of doses arriving is  1,448,700.
August – December
The government will purchase 2,000,000 doses from Novavax while COVAX Facility will come supplying 1,031,660 doses. Each month will see arrival and distribution of over 3 million doses.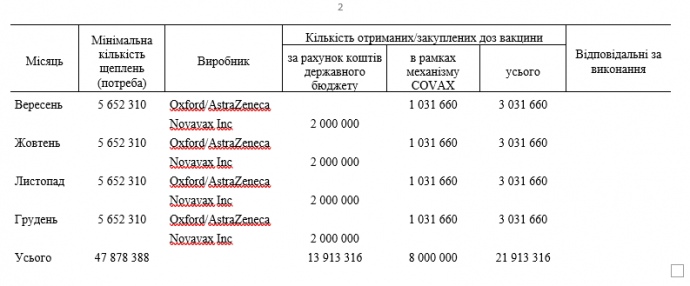 Ukraine's vaccination campaign.  Key takeaways
Vaccination gets underway on February 24, soon after Ukraine receives the first shipment of 500,000 Oxword-AstraZeneca 'Covishield' vaccine
Soon India puts "Covishield" supplies to Ukraine on hold, yet the State Sanitary Doctor assure a second shot will be given as due starting late May
On April 13 Ukraine rolls out "CoronaVac" vaccine from the Chinese Sinovac Biotech that supplied 215,000 doses
Delivered on April 16, 117,000 Pfizer/BioNTech shots are administered starting April 18
On April 7 Health Minister Maksym Stepanov announces that Ukraine needs to administer 6 million jab each following month to reach a 70% vaccination rate by the end of 2021
The April government data shows that 450,600 Ukrainians have received a first COVID-19shot – it is Covishield, in most cases – 5 people have been  fully vaccinated.