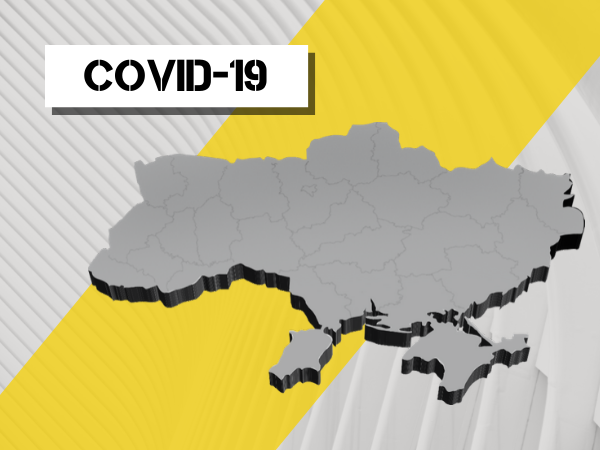 Under the latest update to the Ukraine' color-coded quarantine policies, all the regions moved to the 'yellow' zone of looser Covid-19 restrictions, said the Health Ministry.
May 13 added to the 'yellow' zone list Mykolayiv and Cherkasy regions, which reported lower rates of Covid infections.
Kyiv and eight regions (Volyn, Zakarpattya, Kyiv, Lviv, Mykolayiv, Poltava, Khmelnytskiy, and Chernihiv) still report the Covid figures below the 'yellow' zone threshold that can see them soon moving to the 'green' zone polices.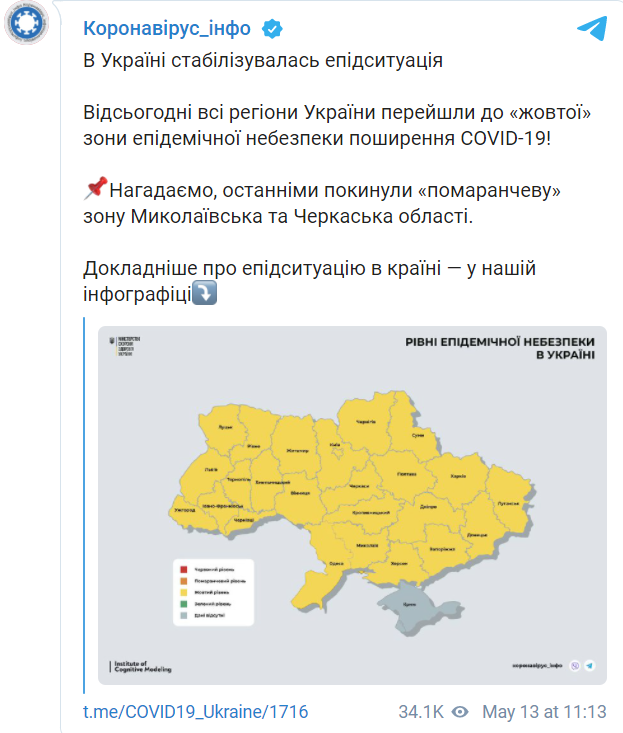 What you should know about the 'yellow' zone restrictions
The  'yellow' zone allows:

Stay in public buildings, public transport with personal protective equipment on

Operation of public catering establishments from 7:00 to 24:00

Activities of public catering establishments with delivery and takeaway order

Work of cultural institutions provided that no more than 50% of the seats are full

Carrying out activities that are necessary to ensure the work of government bodies, testing for notaries, testing for state registrars

Holding official sporting events provided that no more than 50% of the seats are full

Activities of business entities:

– with marking to maintain a distance between visitors of more than 1,5 meters

– with the provision of employees with personal protective equipment and the implementation of proper control over its use

– in case of customer service through pick-up windows, terraces, etc.

– with ensuring centralized collection of used personal protective equipment

Urgent measures for hospitalization, if due to their postponement there is a significant risk to the life or health of people

Activities of hotels, health resorts, institutions providing social services, rehabilitation institutions for people with disabilities, inpatient departments of primary and complex prosthetics

Activities of gyms, fitness centers with occupancy of less than 1 person per 10 sq. m, swimming pools — less than 4 people on one track for individual classes or less than 6 people for a group
The 'yellow' zone forbids:

Being on the street without identity documents

Unauthorized abandonment of the place of self-isolation and observation

Crossing the state border by foreigners and stateless persons without an existing insurance policy

Holding mass events with the participation of more than 1 person per 4 sq. m of space provided that more than 50% of the seats are full

Visiting educational institutions when more than 50% of students and staff are in self-isolation

Reception of visitors in sports halls, fitness centers, swimming pools

Holding mass events in educational institutions with the participation of more than one group (class) and in the presence of spectators

Visits to temporary detention centers for persons, temporary stay points for foreigners and stateless persons, as well as refugee accommodation points

Visits by unauthorized persons to social protection institutions where certain categories of citizens are located (elderly people, persons with disabilities, and others)