Last year' s scandal over foiled secret operation of Ukrainian intelligence targeting Russian mercinaries in Minsk takes a new turn after a revealing report by CNN Tuesday.
Bukvy looked into the response the CNN story got from Ukrainian officials and media.
CNN came up with a report Tuesday about the last years'  plot by Ukrainian intelligence to lure and capture Wagner mercenaries in Minsk.  The story revealed new details of the botched sting operation that contradict earlier statements of the Ukrainian president of Ukraine who staunchly denied Kyiv's involvement in it.
According to the Ukrainian intelligence officials with knowledge of the story, the Ukrainian-led operation got US cash, technical assistance and advice from the CIA on how to snare Russian mercenaries.
How Zelensky top officials responded to the claims
Zelensky's office didn't address the issue publicly but opted for indirect communication effort peddling a commentary from Mykhailo Podolyak, one of the senior advisors,  across domestic  media platforms.
Podolyak argues the CNN story follows misleading narratives of Russian intelligence and official media outlets like 'Komsomolskaya Pravda'.
What Zelensky's advisor actually claimed
'Quite unexpectedly, CNN produces a very strange version of so-called 'Wagner [mercenaries] scandal'. I believe, sometimes you see such anecdotal situations which are hardy conceivable. In just a few hours' time, the official representative of FSB [Russia's security service] compliments CNN on the story. What does it tell? The same old stuff… Anonymous former officials – and this is the key point here – come forth to confirm something. There is another anonymous source dismissing something. And again it is anonymous, nameless 'havebeens', in others words, these are sources that claim no value in regard to their  information and reputation.
Given the subject of the [CNN] story, it is worth drawing attention not to what is published but to its synchronicity with the statement from FSB official. When was it the last time FSB officials rushed to media to support or praise some media story?  It is basically a signal for all Russian propaganda system what and how to cover? Now they are running this story citing CNN. And this came right before the talks between Lukashenko and Russia's president.
The story speaks for itself.  Hardly anyone will be surprised if FSB compliments all those Ukrainian journalists, politicians and former intelligence officials who set up CNN by providing English translation for 'old Russian falsehood' that was allegedly published on August 6, 2020. After that story in 'Komsomolskaya pravda' there has been nothing new and substantial about Wagner [mercenaries].
And now this FSB compliment can be taken as an informal award for those manipulators and corrupt officials who contributed to spreading this story. Unfortunately, you can find anonymous sources in any country who will tell you stories. It is regrettable that the narrative providing a cover-up for why Wagner mercenaries appeared in Belarus  and later planted in Russian propaganda outlet 'Komsomolskaya pravda' is being spread in media, giving delight and joy to FSB.'
Ukrainian media outlets rushed to pick up Mykhailo Podolyak message
The quote of Zelensky's advisor made it into news stories of several media outlets. Among those who provided a platform for the official message were  Argumenty I Facty, Korrespondent, Liga, Novoe Vremay, Ukrainska Pravda, Ukrinform, Interfax Ukraine.  Later, the story was picked up by Censor. NET, Hromadske, and Espresro.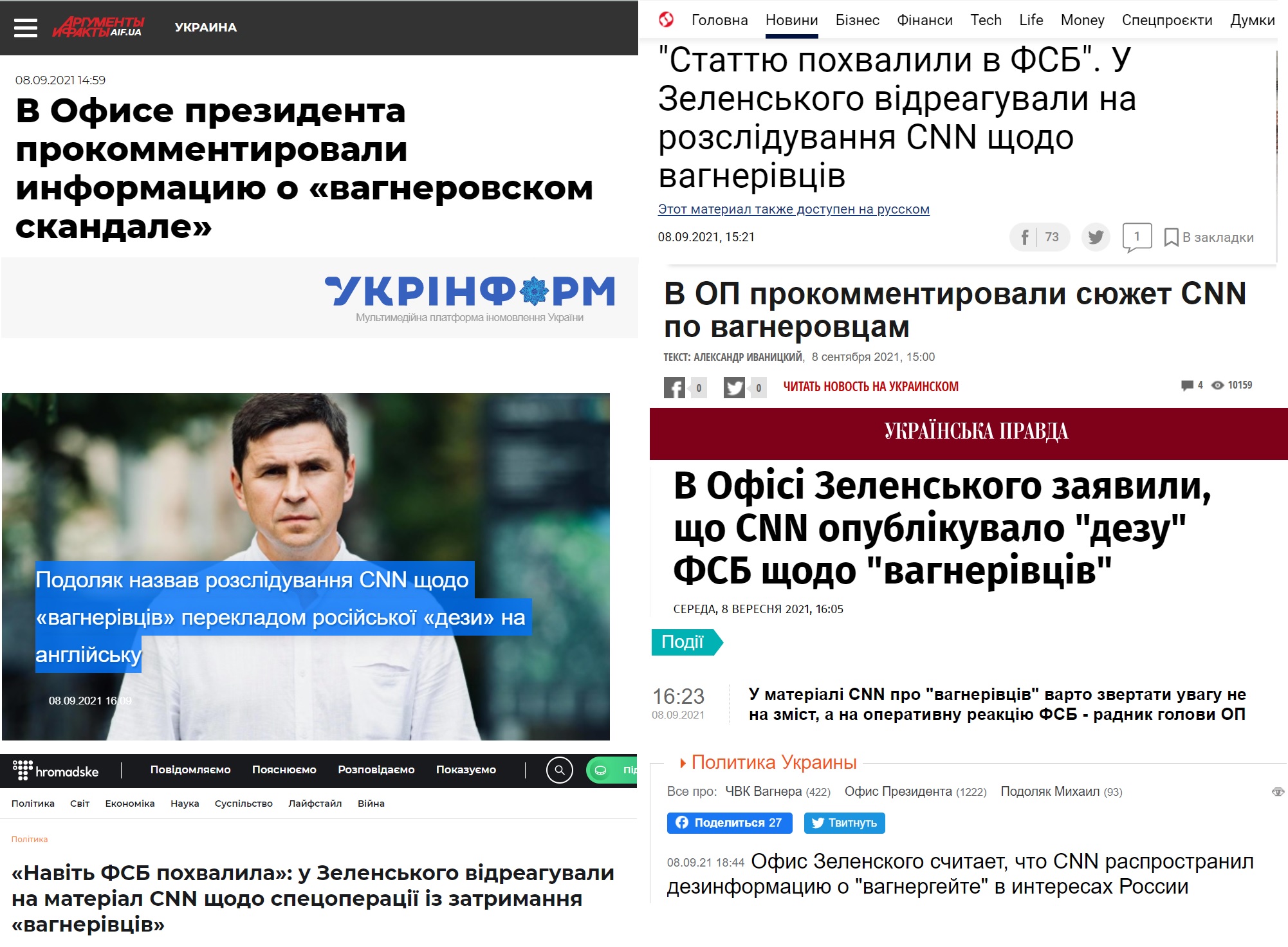 Bukvy approached Mykhailo Podolyak for comments asking to tell if Zelensky or his  President's Office is going to take CNN to court over the alleged 'misinformation. Zelensky's advisor didn't respond to the request.
Bukvy also reached out to Zelensky's spokesman Serhiy Nikiforov asking for his take on CNN story implications but the official left the request unanswered.
Zelensky's officials keep snubbing media requests from Bukvy.
With the story unfolding, Bukvy website was hit with a massive cyber-attack at about 6 p.m. Our technical support is trying to address the issue.
Earlier this week, Bellingcat senior investigator Christo Grozev said the investigative team is coming up with  their own investigation on reasons behind failure of Ukrainian intelligence operation of Wagner mercenaries capture.