On August 17, the Council of Europe's website  officially reported the attack in the category 'Attacks on physical safety and integrity of journalists'.
'On 14 August 2021, in Kyiv, a group of angry people attacked Oleksandr Kuzhelnii, a journalist for the online media Bukvy, after a far-right political protest near the Office of the President of Ukraine. The attackers demanded that the journalist delete the photos taken during the protest. After threats, they began beating him. When the journalist fell to the ground, they continued kicking him. The attackers knew that Kuzhelnii is a journalist because he had repeatedly informed about it and shown a press card. The police identified two attackers. The role of other participants in the offense continues to be established.'
The reports also includes the statement by Kyiv police, response of the OSCE Representative on Freedom of the Media and report of the National Union of Journalists of Ukraine. The Platform stresses there has been 'no state reply yet'.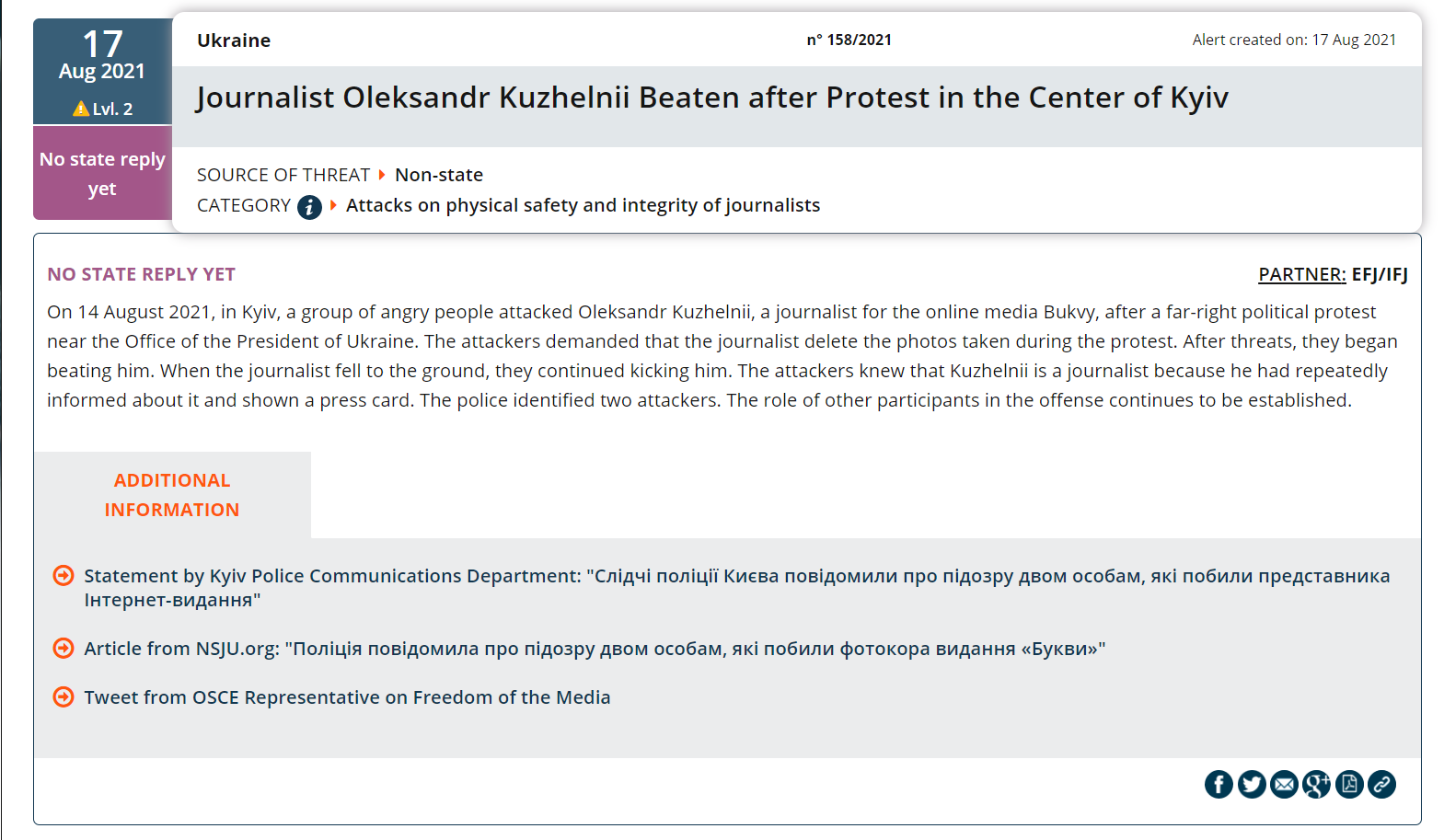 'Platform to promote the protection of journalism and safety of journalists' is a public space to facilitate the compilation, processing and dissemination of information on serious concerns about media freedom and safety of journalists in Council of Europe member States, as guaranteed by Art. 10 of the European Convention on Human Rights. It aims to improve the protection of journalists, better address threats and violence against media professionals and foster early warning mechanisms and response capacity within the Council of Europe.
Earlier, the European regional organization of the International Federation of Journalists responded to the attack on 'Bukvy' reporter and other media representatives in Ukraine who were abused on August 14.
What happened to Oleksandr Kuzhelnii
On Saturday, August 14, 'Bukvy' journalist Oleksandr Kuzhelnyi was covering a rally 'Stop the capitulation', which brought together different nationalist groups to protest against recent 'repressions targeting Ukrainian nationalists' and 'betrayal of Ukraine's interests'. When the rally ended, Kuzhelnyi was surrounded and assaulted by a group of angry protesters who demanded the 'Bukvy' reporter to delete all the photos he had taken at the event.
Oleksandr Kuzhelnyi noted that one of the attackers, before using force against him, mentioned the attack that took place on July 21 near the the Kyiv court.
The attackers were identified by the 'National Corps', whose leader Andriy Biletsky persuaded them to turn themselved in to  police. They did so after a public apology to Kuzhelnyi.
Kyiv police filed charges against two men in connection to beating of 'Bukvy' journalist Oleksandr Kuzhelnyi with suspects now facing up to five years in prison.
'Bukvy' managed to identify the person who allegedly staged the attack.