A maternity ward and a children's hospital have been destroyed in Mariupol by a Russian air strike this afternoon,  deputy head of Ukraine's national police Vyacheslav Abroskin said in a statement on social media.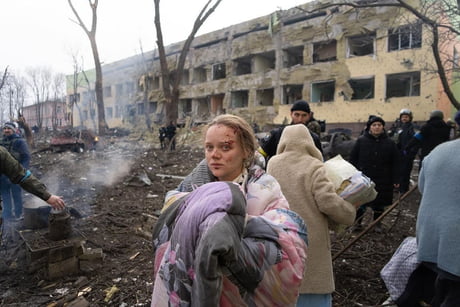 photo by @Evgeniy Maloletka/instagram
The news of the attack was confirmed by Mariupol city council.
A statement on the city council's social media account said the hospital suffered "colossal" damage.
photo by @Evgeniy Maloletka/instagram
The air strike reportedly left many patients trapped under rubble.
The head of Ukraine's Donetsk regional administration said 17 people were wounded in the incident, including women in labour.
Another attack targeted the maternity ward #2
The local authorities are trying to establish how many children and newborns can be injured in the maternity ward.
Наслідки бомбардування окупантами дитячої лікарні в Маріуполі. pic.twitter.com/ABflxj9QNq

— Букви (@Bykvu) March 9, 2022
The hospital building appears to have been  completely ruined.
Черговий зруйнований російськими окупантами "військовий об'єкт". pic.twitter.com/Tr3lcjiZPJ

— Букви (@Bykvu) March 9, 2022