No Covid shot, no touring
The wife of a state-run 'Ukrzaliznytsya' advisor is no stranger to controversy and earlier drew criticism over her performances in Russia.  The Covid pandemic restrictions derailed touring for many Ukrainian artists but Serhiy Leshchenko's wife was undeterred and opted for a Covid shot, which she got on March 9, soon after the start of the vaccination campaign in Ukraine.
According to Topolska, the shot was made available 'thanks to the Health Ministry directive that allowed vaccination of public figures using leftover vials allotted for health care workers'. No longer effective, the ministry directive she is referring to was staged primarily for vaccination promotion and allowed admininstering Covid vaccines for public figures, artists, sportsmen, and religious leaders.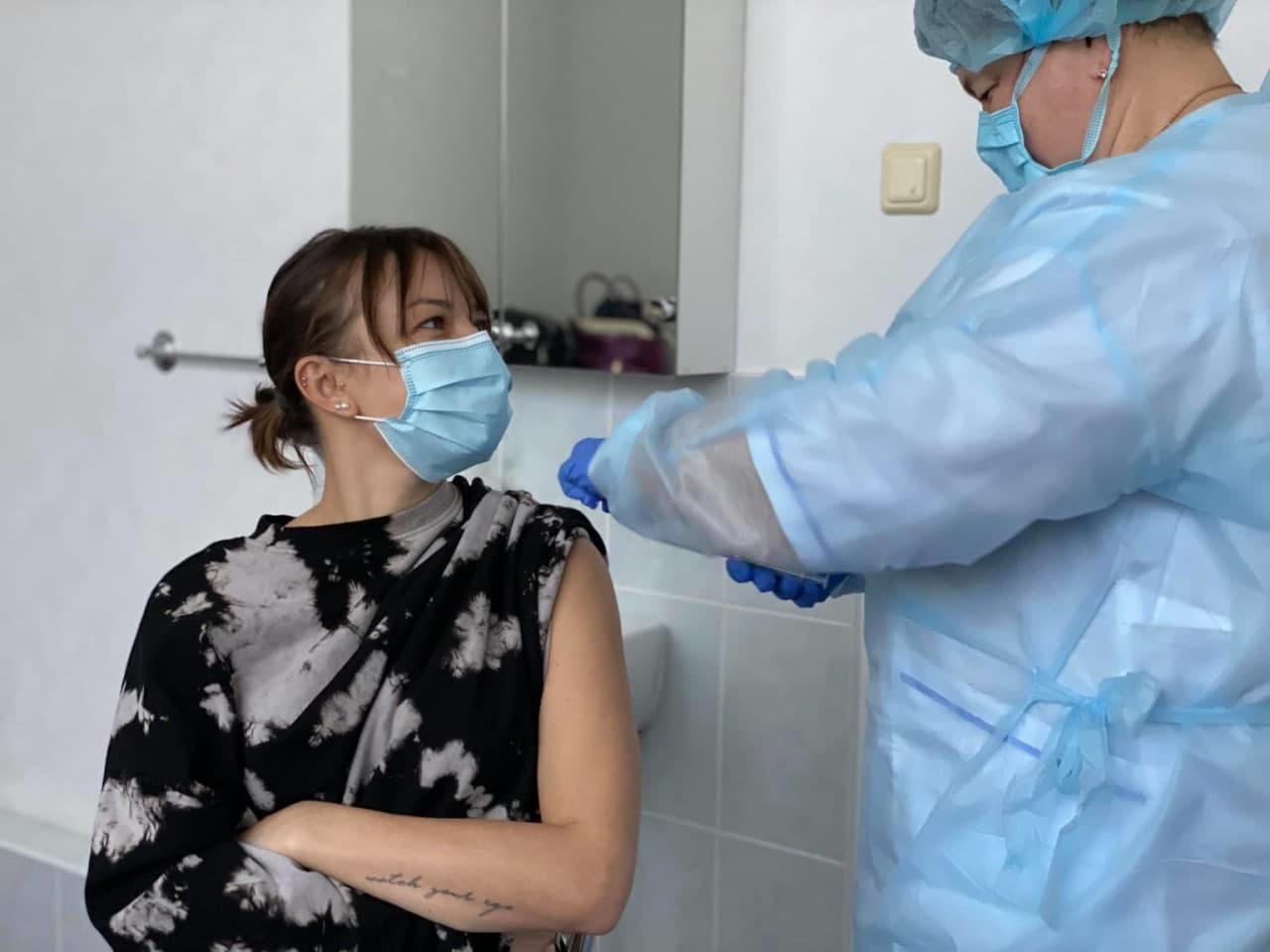 Back then, Topolska said that 'she was among the lucky ones' who got vaccinated, adding that she 'had been on the standby list – applied for it with 'Diya'app'.
Topolska claimed  that she was 'feeling great',  going to 'party hard to celebrate a DJ Day' (she got a jab on  March 9).
She also opened up on her Covid shot motivation.
'It is very emblematic; otherwise I will have no tours to other countries. I am wishing to all of you to get a protective dose and forget about the times of unprecedented curbs,' she concluded. Her husband Serhiy Leshchenko got a Covid shot the same day and, four days later, was spotted visiting several Kyiv clubs.
Moscow calling
According to media reports,  Anastasiya Topolska is  going to Russia for a DJ performance in a Moscow's club.
She is slated to play a DJ set  for HOROVOD event at Moscow's 'Mutabor' art center. The information was confirmed by the event organizers in their social media announcement.
A closer look at the event shows that it is by no means a 'regular' party you would hire a DJ for. The event announcement reads that 'you are free to do whatever you want, just do not disturb others'. Forbidding video and photos, the organizers have warned against abuse of others and set the 'over 18' age restriction for revelers.
'Sex positive and following the principle of consent' state the event rules.
Given the context, Topolska's performance is obviously going to be part a sex party amid the ongoing pandemic. The organizers seem to be hardly bothered with Covid infections, promising a friendly 'awareness team' greeting you at the club entrance with a thermometer.
Another thing in question is how DJ Nastia could enter the Russian Federation when their government keeps a strict policy banning the entry of foreign nationals, and with very few exceptions. Apart from residents of Luhansk and Donetsk region, the entry ban  does not apply to  airplane crew members, permanent residents of the Russian Federation who hold a valid residence permit, or transit passengers, and  foreigners  coming to for medical treatment or in order to care for relatives in Russia.
Given these restrictions, Topolska could assumingly visit Russia if she (a) had a permanent residence in DNR/LNR, (b) needed a medical treatment, (c) was coming in case of a death of her close relative, (d)  had a Russian passport.
Topolska is still tight-lipped about her Moscow tour. 'Bukvy' reached out to her husband Serhiy Leshchenko seeking his comments but he did not respond to the call.
While the vaccinated wife of the state company 'Ukrzaliznytsya' advisor entertains a crowd in Moscow's night club, the state health officials have a hard time explaining why Ukraine can boast only 449 full vaccination cases.