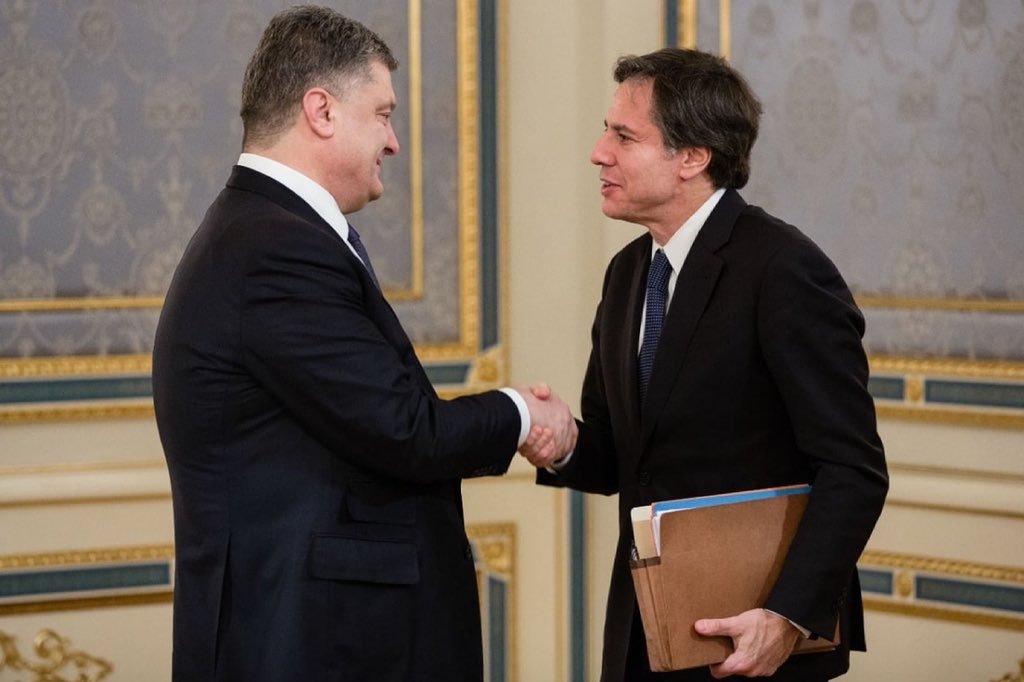 In his Facebook statement and comments for media,  Petro Poroshenko, 'European Solidarity" party leader, told about his meeting with the US Secretary of State Antony Blinken and Under Secretary of State for Political Affairs Victoria Nuland.
'When Ukraine is among the first countries that get a visit  of the highest-rank US administration officials,  it symbolizes importance of Ukraine for the US," said Poroshenko.
He noted that 'both Antony Blinken and Victoria Nuland have deep understanding of all the Ukrainian problems' and come with 'powerful support, powerful message that reforms must be protected and advanced'.
According to Petro Poroshenko, the top US officials stressed  importance of advancing rule of law and economic reforms to strengthen Ukraine's institutions, including support of anti-corruption and corporate governance efforts.
The meeting also outlined the priorities in relations between the countries stating that 'defence of sovereignty and warding off Russian aggression' coming as the first and foremost concern.
'European Solidarity' leader passed Antony Blinken a non-paper that provided a clear perspective on 'development of bilateral relations' between Ukraine and the US.
"The document implies necessity of NATO membership action plan for Ukraine as well as support in talks over joining NATO and EU. It also has a precise request for assistance in tackling the pandemic including supplies of equipment and vaccines. [It is also] about sharing experience that the US have got in logistics organization for [pandemic] prevention. [I] presented our anti-Covid plan and we agreed that there would be persons put in charge of such coordination," stressed Poroshenko.
The dialogue with the US administration officials also addressed the issues of the US participation in Crimean platform, policies to revitalize 'Normandy format', and appointment of a special US envoy for better coordination in the face of Russia's aggression.
'[We also] stressed the importance of cooperation with the IMF.  Now it is ruined. Many of the promises the government gave have not been realized. Trust, the main thing that we had at the time of our cadence, has been ruined. We will put forth an effort to restore trust to Ukraine, " said Poroshenko.
He also admitted that the US administration officials had raised a question of anti-corruption investigations.
'We heard from Mr.Blinken that it was important to finalize the anticorruption cases that now are not proceeding. Among those, "Privat' and others that are emblematic for Ukraine,' he added.
'European Solidarity' leader stressed that '[there is] clear stance that we need to get away from talking the talk, from sweet singing and making videos to real precise work in parliament, in government.  And with this situation, where the law was violated when the  government interfered  in 'Naftogaz' Advisory Board activities [..] today it will not stimulate  development of cooperation between Ukraine and the US,' concluded the former Ukrainian president.
In his Facebook statement, Petro Poroshenko expressed his confidence that the US support remained critical for 'strategic success of Ukraine' and sent his regards to the 'Ukrainian friend' Joe Biden wishing him 'success in strengthening the US leadership in the world and addressing the challenges'.