The April survey of SOCIS Center studying current electorate preferences shows that if the presidential elections were held today, 26,7% Ukrainians would vote for Zelensky with Poroshenko now trailing close behind with 19,6%.
The poll figures show the gap for the former Ukrainian president is steadily shrinking compared to the results of the first round of presidential vote in 2019 that saw Zelensky and Poroshenko claiming 30,24% and 15,95% votes respectively.
The April poll numbers show that the current gap has narrowed to 7,1%.
According to the new SOCIS Center poll, Yulia Tymoshenko comes third with the share of 10,1% and is followed by Yuriy Boyko (9,7%), Igor Smeshko (7,5%), Volodymyr Groysman (4,5%), Oleg Lyashko (2,7%), Dmytro Razumkov (2,5%), Vitaliy Klychko (1,3%).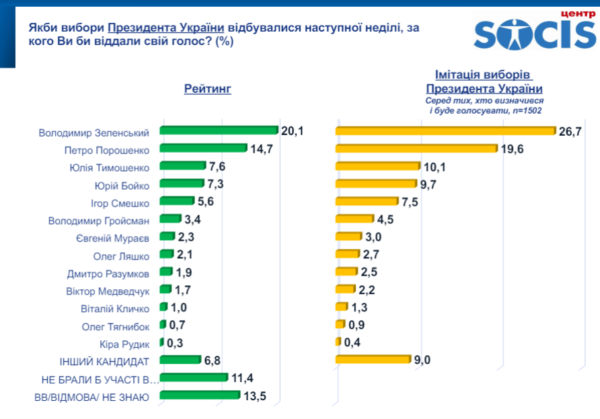 The survey projection also shows Zelensky now leading by 12 points if facing Poroshenko in the second round of presidential election, compared with his almost 49-point edge in 2019 election.
If they faced each other in the second round today, Zelensky and Poroshenko would get 56,3% and 43,7% votes respectively. This gap of 12,6% that is already 4 times narrower.
Another projection of the survey shows both Volodymyr Zelensky and Petro Poroshenko beating Yuriy Boyko were they to face the latter in a second round of presidential elections.