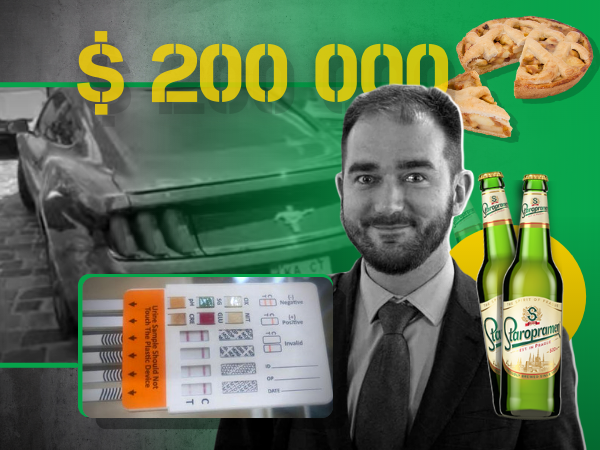 Winding  career of Oleskandr Yurchenko 
A 32 year old Kyiv native studied design at Kyiv 'Ukraina' university and later got a  degree in law from Kyiv National Taras Shevchenko University.  After graduation, Yurchenko dabbled in several careers working as a courier, a technician, an architect, and an office manager in a law firm.   In 2015, he ran for a seat on Kyiv City Council as a 'Ukrop' party candidate. By that time, he worked as volunteer assistant in the offices of four different Ukrainian MPs  – Andriy Denysenko, Taras Batenko, Oleksandr Shevchenko and Lesya Sotnyk.
He was also involved in activities of 'Lustratsiya' civic group and chaired a public advisory board with Kyiv district Golosieyvska administration. The job of an administrative manager at 'Clifford Chance' law firm was his last regular employment. The law firm was steeped in controversy and suffered  blacklisting  after reports of  British MPs revealing it was involved in money-laundering schemes.
Yurchenko's father worked as an expert performing appraisals in construction industries. The company 'In-Folio' he worked for was part of investigation on 'Eltek-Ukraina' company that  was charged with fraud and tax evasion. The case was dropped in 2015 after the company covered 4.5 million hryvnas it was due in taxes.
Before he was elected as an MP, Oleksandr Yurchenko found himself between the jobs. As a civic activist, he was involved in several campaigns protesting controversial housing development projects in Kyiv. In March, 2021, he was booed at Kyiv rally protesting against the housing project in place of the sport facilities in Svyatoshyn neighborhood of Kyiv.
Criminal records
A case of stolen beer
In 2009, the future MP was detained after he stole four beer bottles from the Kyiv store 'Kashtan'. He was charged with petty theft but in December the charges were dropped and the case records were allegedly destroyed.
 Bribery scandal
In September 2020, National Anticorruption Bureau opened a probe on Yurchenko following the on allegations of $200 thousand bribe he was caught extorting. The news of the bribery was leaked by another 'Servant of the People" MP Geo Leros who earlier had a scuffle with Yuchenko after two MPs exchanged insults.
Yurchenko was taken in custody with his bond set at 3 million hryvnas. He was bailed out by his 'supporters' claiming they cared for his 'environmental cause'. The disgraced MP was ordered to wear a GPS bracelet and later was put under house arrest. The 'Servant of the People' MPs  kicked Yurchenko out of their parliamentary group while Ukraine's President came forth with a promise that Yurchenko would soon face jail. Yet the case soon stalled.
Car accident and drug-driving
The accident happened in Lviv on July 8 – while pulling back his Ford Mustang, Yurchenko dented a Volskwagen Jetta and attacked its driver inflicting him injuries.
According to media reports, the MP was drug-tested and the test later made public by Geo Leros provided a positive result. The following day, the Volkswagen driver claimed that Yurchenko reported on him to police though the fact is still unconfirmed.
In the wake of a drug-driving scandal the leader of 'Servant of the People' party Oleksandr Kornieynko called on Yurchenko to resign.