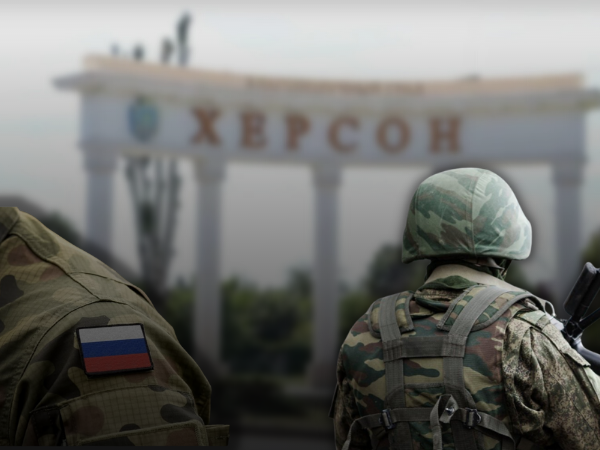 'Bukvy' spoke with Oksana to get to know about the situation in Kherson and the experience of living in the occupied city.
'No one guarantees that you will reach the Ukraine-controlled alive'
Oksana stressed that there were no humanitarian corridors in Kherson and everyone who left the city did it at their own risk. In addition, civilian convoys often came under fire, which resulted in many victims.
'Those people who are ready for quick decisions were able to leave on February 24. It was already scary to do it on February 25. People saw huge columns of Russian military surrounding Kherson. But it was still possible to leave at that time, and then it became almost impossible.'
'We survived four waves of arrests' – about Russian repressions in Kherson.
In total, there were 4 waves of arrests. The first was when the occupiers searched for veterans and territorial defense participants:
'They conducted searches, ransacked apartments. Filtering camps and prisons were organized using existing facilities. Those who were found were taken there.'
The second wave affected opinion leaders, deputies, former government officials – those who could influence people in favor of the occupiers:
'The former head of the Regional State Administration, the former mayor of Kherson – they are still in captivity.
The occupiers use them to conduct 'interviews', although these are actually interrogations, where they pronounce the prepared text, which is needed for the Russian audience.'
Moreover, even if these people are released, they are forced to sign a 'document' obliging them to cooperate with the occupiers:
'This is a hook, so the main task of those who escape is to leave the occupied territory as soon as possible.
Because if you stay, you should understand that they will come for you again.'
The third wave was aimed at those people who participated peaceful protests.
The fourth wave is going on in the city right now, and according to Oksana, anyone can fall under it:
'They can just catch you on the street. Two girls were taken prisoner, one was released, and the second is being held and they are trying to force her to admit that she spotted for the [Ukrainian] artillery on Chornobaivka. The time has come when you never know where and when they will come for you, and this was also the reason for my departure.'
'Telegram channels became the main sources of information.' They provided communication with the outside world.
According to Oksana, the connection in Kherson has become very bad; it can disappear at any moment, so it is almost impossible to use it.
Now the Russians have begun to introduce their own mobile operators, providers, and Russian television broadcasting has begun. Therefore, Telegram channels are the only source of communication for the Kherson people; television is only available to people with satellite connections; cable TV does not operate is not available.
'Telegram became a window for me to receive positive information, even about explosions. They constantly wrote when our troops fired at Russian positions and asked people not to be afraid', Oksana recalls.
'For those who remain, the greatest fear is to be forgotten' – about the mood of people in Kherson.
Those who were forced to remain under occupation, beg to speak about them:
'Many people, upon learning that I had left, asked me not to be silent and to constantly talk about Kherson and that they are waiting for liberation.
They are very much afraid to stay in the occupation. This can be a sentence for some.'
There was no official evacuation from the city, people had to do everything on their own – they organized themselves with friends, colleagues, relatives, formed convoys and left:
'If you don't have a car, you have to look for an opportunity to leave.
Whether to join someone as a passenger, or to contact a volunteer group, but it all comes down to money. That is, if you have no money, no friends with a car, then there is practically no way to leave.'
The mood among the locals is close to despair.
Lucky are those who have a job, because unemployment is on the rise right now. Long queues for food:
'But from time to time you have to dedicate the whole day to just standing in a queue for food.
That is, in one store there is only bread, you stand there for 2 hours, in another shop, there is only meat and so on. Now there is no such shortage of goods, and the market has been flooded with Russian goods. But people try to eat mainly vegetables that were grown in Ukraine.'
According to Oksana, the markets are reminiscent of the return of the 1990s – everything is sold from the trunks of cars: from cigarettes and alcohol to cheeses and sausages.
People have to decide whether to buy Russian goods or not. There is no work at all, and there is no normal medicines. Humanitarian aid practically stopped being allowed into the city.
'There is a mood of despair, people are worried about survival, and they don't know what will happen tomorrow. They are waiting for something, and this something is uncertain. But people lead resistance, partisan activities, sabotage. Various inscriptions, warnings to the occupiers appear to make them understand that they are not welcome here.'
A message to Ukrainians in the occupied territories
'Bukvy' asked Oksana Hlebushkina, as a person who survived the fear and despair of the occupation, to address Ukrainians – both in the temporarily occupied territories and in the territory of free Ukraine.
'I want to tell you to hold on, although I know how difficult it is to hold on in the occupation, not to lose faith. Those who feel more protected now should work on the information front, talking about Ukraine. Talk about Kherson at any level. Talk inside the country and abroad. Call partners for help, ask for heavy weapons – only then we will have a chance to liberate both Kherson and Crimea. I wish you endurance and strength, to hold on and help our Armed Forces bring victory closer'.