Ukrainian president's official website сaught misreporting details of the telephone talk between Joe Biden and Volodymyr Zelensky.
The first telephone call between Zelensky and Biden made news worldwide as the two leaders' talk took place amid reports of escalating hostilities in Donbas and a Russian military buildup on the Ukrainian border.
The telephone call earned a very short statement on the White House official website, while the Ukrainian president's office reported it in detail with Zelensky  himself later tweeting and posting a video recounting his conversation with Biden.
Ukrainian president's own official website came with a very baffling statement claiming:
"President Joe Biden noted that he admired the leadership of Volodymyr Zelenskyy in transforming Ukraine into a state with strong democratic institutions".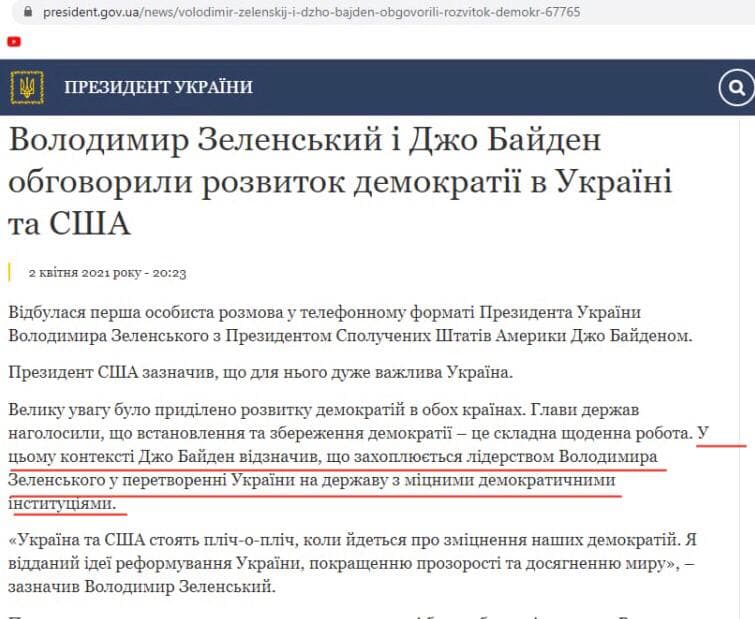 Obviously, such a bold claim would ask for the original source quote, or, at least, had to be backed up by the Biden administration officials. Yet the White House statement has no any references to Biden's "admiration" over Zelensky:
"President Biden affirmed the United States' unwavering support for Ukraine's sovereignty and territorial integrity in the face of Russia's ongoing aggression in the Donbas and Crimea. He emphasized his administration's commitment to revitalize our strategic partnership in support of President Zelenskyy's plan to tackle corruption and implement a reform agenda based on our shared democratic values that delivers justice, security, and prosperity to the people of Ukraine. The leaders agreed these reforms are central to Ukraine's Euro-Atlantic aspirations. They also discussed the importance of close United States-Ukraine cooperation to contain the COVID-19 pandemic and strengthen democracy in the region.", the White House statement said.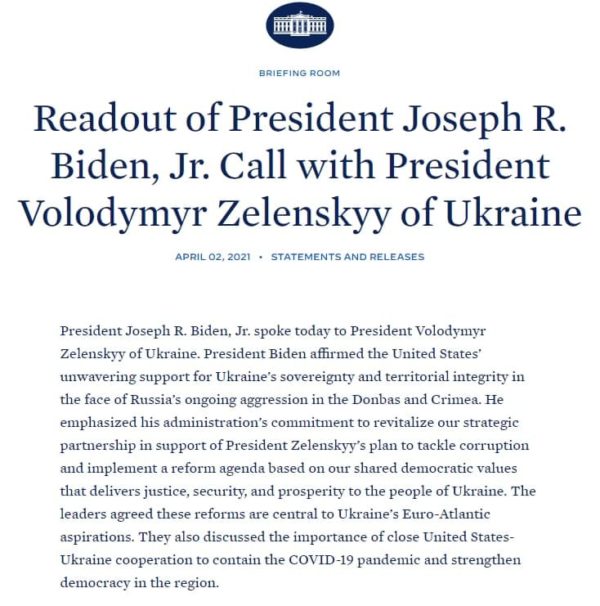 This now leaves people guessing if Biden really "admires" Zelensky or not?
The first conversation between Biden and Zelensky. Key takeaways
On Friday, March 2, US President Joe Biden and Ukrainian President Volodymyr Zelensky had their first telephone conversation. During the conversation, Biden assured of  the firm U.S. support for Ukraine's sovereignty and territorial integrity in the face of Russia's ongoing aggression in Donbas and Crimea.
According to Politico, the presidents spoke for 30 to 40 minutes. Biden stressed that he is  committed  to ther strategic partnership with Ukraine  and said that he whole-heartedly believed in  success of Ukraine.
The conversation came at the time of the rising tensions in Donbas and Russia's massing troops on the Ukrainian border.
Politico reported that Ukrainian officials had been pushing for a telephone call between Zelensky and Biden for days, including in a call between national security adviser Jake Sullivan and top Zelensky aid Andriy Yermak.
On April 1, U.S. defense chief Lloyd Austin called his Ukrainian counterpart, Andriy Taran.
It was their second conversation in the last 1.5 months that came on the initiative of the American officials. The two defence chiefs discussed strengthening security and defence partnership between Ukraine and the United States. Lloyd Austin expressed his concern over the recent Russian Federation actions and reassured his Ukrainian counterpart that the US were ready  to stand by Ukraine in the light of Russia's aggressive acts in Donbas and Crimea