On July 5 the US president Joe Biden announced of a new policy on electric cars aiming to 'outcompete China, and tackle the climate crisis' – with the 'ambitious new target'  making  half of all new vehicles sold in 2030 zero-emissions vehicles.
Tesla CEO Elon Musk said on Twitter that his company was not invited to the event.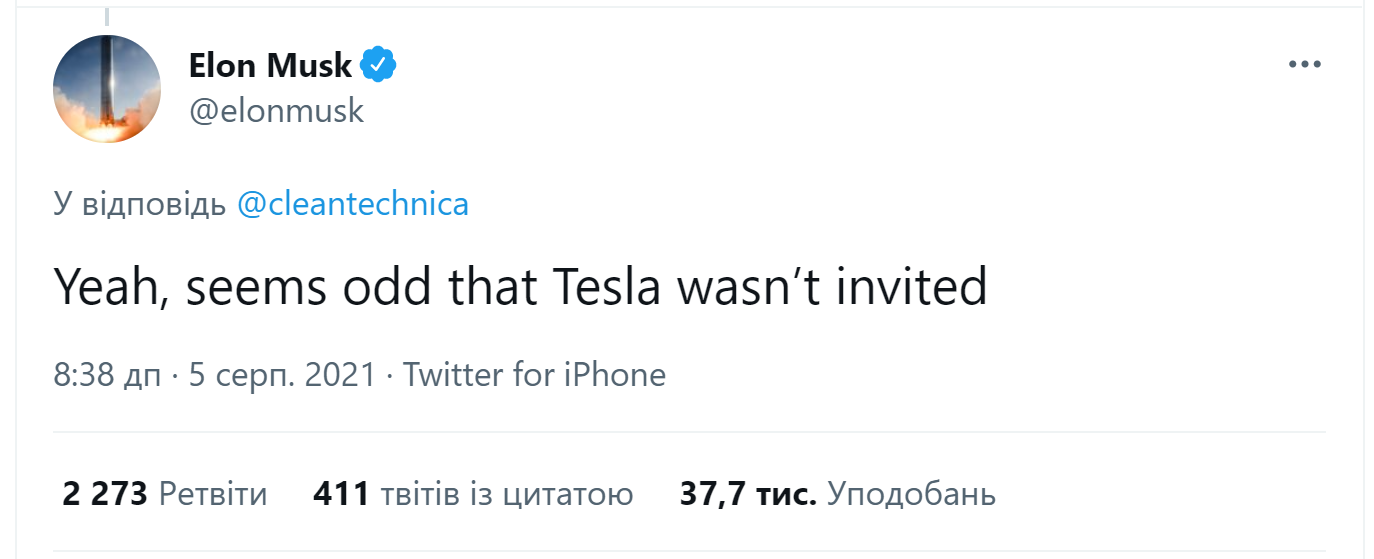 Yeah, seems odd that Tesla wasn't invited, quipped  Musk.
Why the US administration snubbed Tesla CEO at big electric vehicle event?
One of the reasons behind the move can be Tesla founder skeptical response to Covid pandemic
Musk's first comments on the virus came in early March with a brief tweet:  Coronavirus panic is dumb.
The 'Black Swan' author Nassim Taleb called out Musk over the controversial stament tersely responding
'Saying the coronavirus panic is dumb is dumb'
A week later, Elon Musk took to Twitter to announce Tesla would produce hospital ventilators to address their shortage in the pandemic times.
In March, 2020, Tesla bought over 1,200 ventilators to China and delivered them  to hospitals in California and other states. Soon after, Musk offered to deliver remaining ventilators to any hospitals for emergency use.   Ukraine's health minister Ulyana Suprun responds to the call tweeting at Musk :
'My name is Ulana Suprun and I am the former minister of health of Ukraine. Ukraine is in dire need of ventilators. We have only 3500 in the ICUs and we have a population of 37million. Please help us!'
While Elon Musk failed to respond to her pleas, Tesla Club Ukraine co-owner Nazar Shymone-Davida chimed in offering to help deliver ventilators to Ukraine if needed.  The plan soon stalled.
Tesla and SpaceX owner stirred a new controversy claiming on Twitter  'Kids are essentially immune [to Covid-19]'. The claims downplaying the risks for children were swiftly refuted but Twitter said it will not pull down his tweet.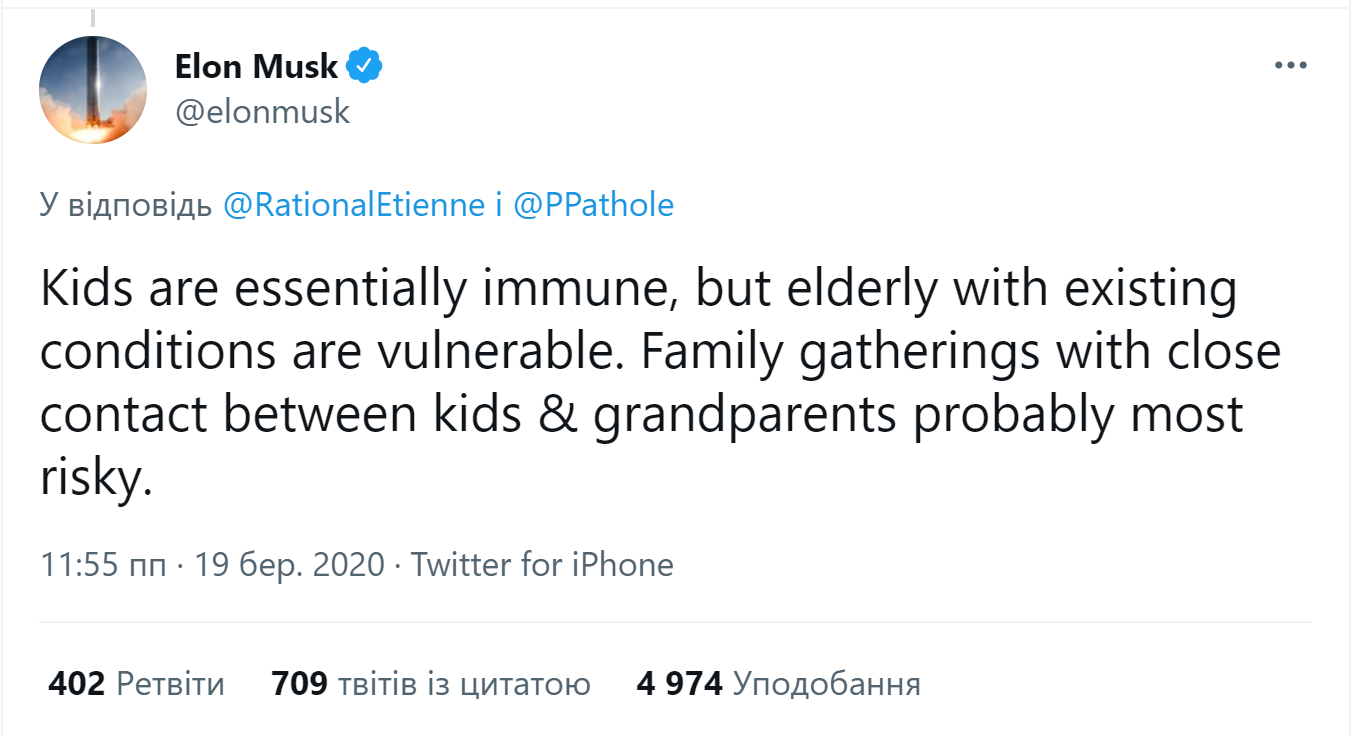 In a defying move, Musk ordered to of his  Tesla plant  in Fremont, California days before the agreed-upon May 18 date to which other manufacturers had adhered.
'If anyone is  arrested I ask that it only be me', remarked the entrepreneur.
He drew the ire  yet again when he threatened to relocate Tesla manufacturing falilities from California to Texas and Nevada due to looser Covid polices in the former states.
He got Covid in November, 2020, casually breaking the news on Twitter. Musk insisted he had 'mild' symptoms, calling into question the infection tests.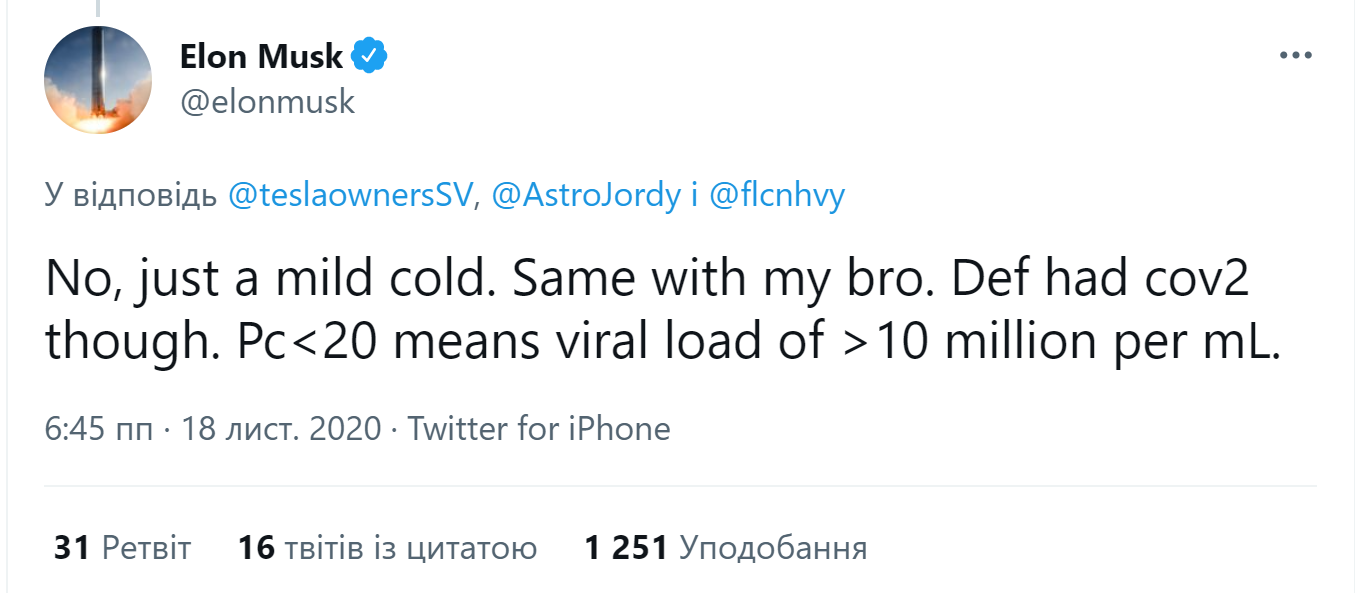 "Something extremely bogus is going on," he wrote on November 12, telling he had 4 BD tests with 2 turning out to be positive and 2 others negative.
"Same machine, same test, same nurse," he wrote. He later criticized BD's test as being "about as useful as a flipping a coin."
Musk was still awaiting his PCR results when he started tweeting. He still has not shared those results, but he said on November 18 that he "def" had the coronavirus.
Covering Covid case of Tesla founder, Vice media outlet said ' Musk's highly irresponsible tweets are par for the course. Musk has never been responsible with his popularity, using his gigantic platform to sic his fans on critics, casually discuss conspiracy theories, and call coronavirus lockdowns 'fascist'. Earlier this year, Musk forced Tesla workers back to the factory in direct defiance of a government lockdown. He said coronavirus would go away by the end of April. It has, obviously not gone away'.
While his net worth is estimated at 180 billion, Tesla and SpaceX founder can hardly be called a philanthropy – apart from delivery of hospital ventilators his Tesla bought for the US hospitals,  he was hardly involved in efforts helping to handle the pandemic.
How is the US vaccination campaign  going on?
As of early August, half of the Americans have remained unvaccinated with almost half of those (45%) arguing they will definitely stay away from the vaccine and a third of the respondents being 'disinclined' to do so, showed the recent survey by Associated Press-NORC Center for Public Affairs Research
The numbers are really alarming amid the reports about spike in  infection and death rates – 119% and 74% respectively.
Half of new Covid cases are reported in seven US states with the lowest vaccination rates. The most vaccine-hesitant are people in 'red states' like Florida, Texas, Missouri, Arkansas, Louisiana, Alabama, and Mississippi who are known for their sweeping support of former US president Donald Trump.
In September, three months before the announced US vaccination roll-out, Elon Musk said he would not get the Covid-19 vaccine, though, just a half a year later, in April, 2021, he had a change of heart,  and this time came forth calling on people to get vaccines of Pfizer or Modena.
His inconsistent and confusing remarks, obviously, did a disservice to federal government efforts to curb the pandemic.
Covid pandemic has had a dire effect on the US economy – people have lost income and are facing evictions being unable to pay rent.
Cori Bush, Dem. congresswoman even staged a protest at the US Capitol calling on the Biden administration to extend eviction moratorium protecting hundreds of thousands of Americans from losing their houses.
Elon Musk and Bitcoin tweets
In December, Elon Musk sparked a new controversy calling bitcoin in his tweet 'as bs as fiat money' and pledged his backing  for  Dogecoin, Bitcoin cryptocurrency rival.
He soon reneged on his pledge with Doge in a cryptic tweet that said 'In retrospect, it was inevitable' adding  bitcoin hashtag. After Musk's tweet, bitcoin rose to a high of 38 thousand US dollars.
Then came a flurry of inconsistent moves that saw him announcing  in Ferbuary  Tesla would accept bitcoin as a form of  payment for its cars, and  two months later, backtracking on that decision in May. Remarkably, at about that time, he called  a vote on Twitter asking if Tesla should accept Dogecoin as payment for its electric cars,  and most of his followers  (almost 77% out of 1,85 million) said 'yes' to such move.
In a U-turn on bitcoin, Elon Musk tweeted Tesla suspends accepting bitcoin citing 'enviromental concerns'.
'Cryptocurrency is a good idea on many levels and we believe it has a promising future, but this cannot come at great cost to the environment," he tweeted. Tesla shares fell 1.25% after hours.
He kept rattling bitcoin in another tweet with an image of a breaking-up couple slyly adding a broken heart emoji. The joke proved costly for bitcoin and saw  7% dip in its prices.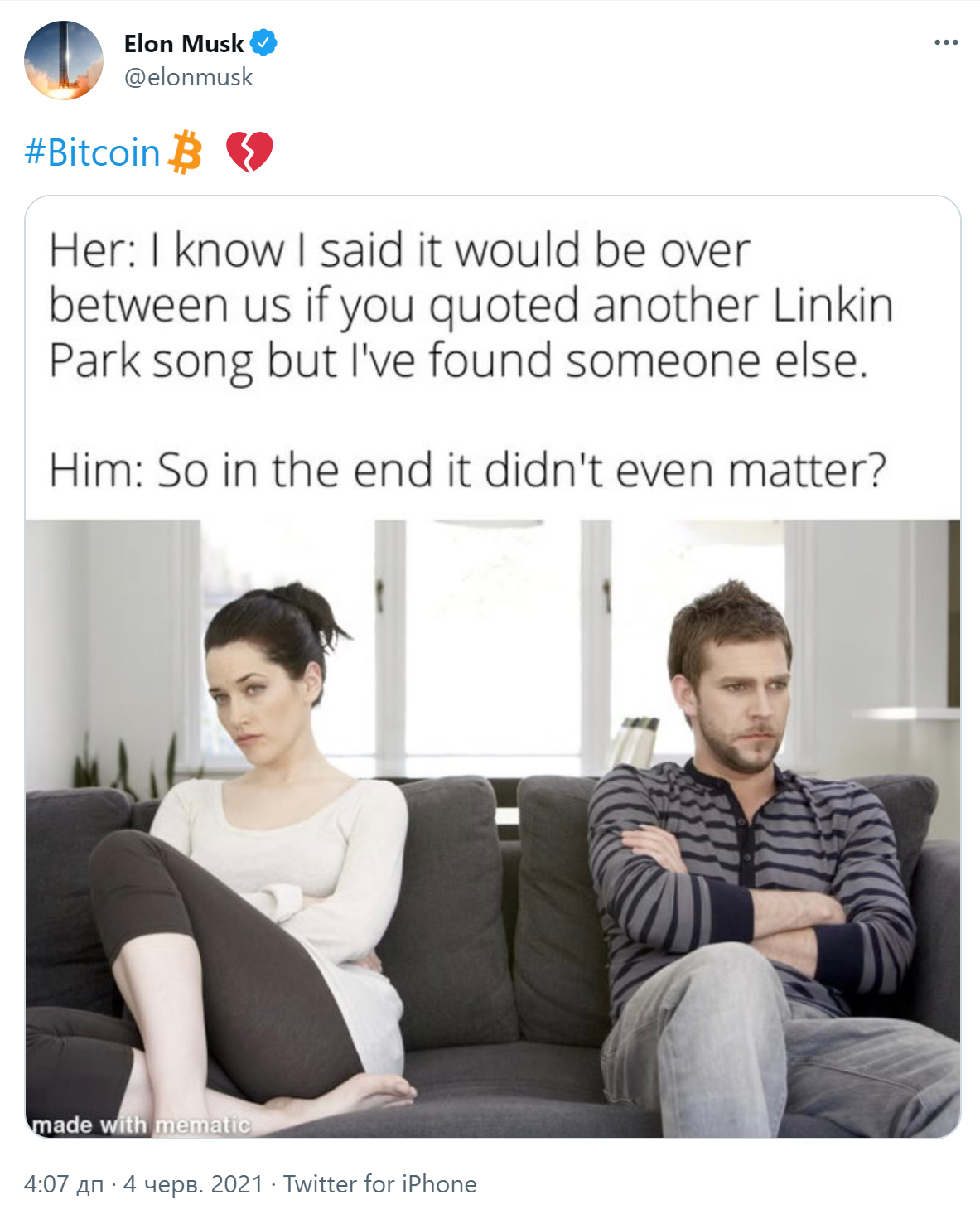 Tesla founder unsettled bitcoin crowd yet again tweeting 'I wanted a little bit more due diligence to confirm that the percentage of renewable energy usage is most likely at or above 50%, and that there is a trend toward increasing that number, and if so Tesla would resume accepting bitcoin. Most likely the answer is that Tesla would resume accepting bitcoin'.
The start of a second half of 2021 proved rough for Tesla – July financial reports saw electric-cars maker shares tumble.
Tesla is highly correlated to megacap tech" and "this relationship has really decoupled in the near term," Amy Wu Silverman, derivatives strategist at RBC Capital Markets, said in emailed comments. "When I ask around, the feedback I get is that this is related to their Bitcoin exposure and how it will have to be accounted for when they report earnings."
These days  Tesla stock is more volatile than ever despite small gains it made in late July.
Bottom line
It is very likely that Elon Musk controversial statements  on Covid and Bitcoin must be a real reason behind the Biden administration decision not to invite Tesla and SpaceX founder to electric vehicle summitn. His overt criticism of Covid policies could be seen as defiance of governmental agenda that got in the way vaccination roll-out leading to surge in new cases  while his manipulative tweets about Bitcoin may further spur crypto mining ventures worldwide, which can  disrupt efforts targeting new green initiatives of the Biden administration.