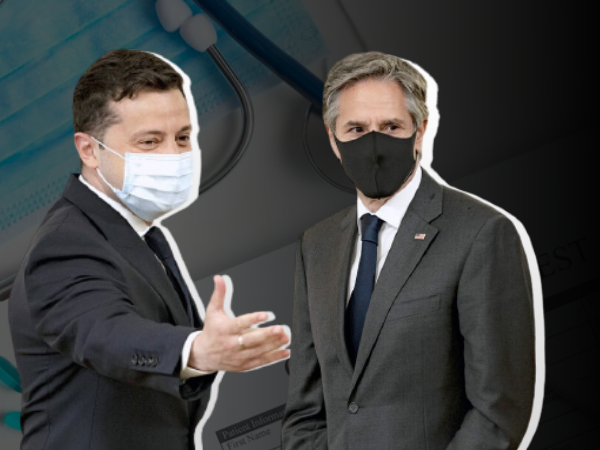 Antony Blinken visit to Kyiv. The key takeaways
In the first place, the visit was necessitated by Russia's saber-rattling at the Ukrainian borders that made NATO members think of countermeasures.
Antony Blinken reassured that the US and the group of G7 countries supported the territorial integrity and sovereignty of Ukraine. Declaring readiness to respond to the aggressive acts of Russia, the US diplmats still do not show their cards as to what kind of response they can come up with.
Then came the meeting with the leading members of Ukrainian parliament, which is nothing new for official visits. This one hadn't been scheduled though and was added the last minute. Meeting the Verkhovna Rada leaders was meant to remind that Ukraine was still a parliamentary presidential state, and not a 'coronavirus monarchy'.
The MPs who were fluent English made the most of the situation; Petro Poroshenko, in line with diplomatic etiquette, passed Antony Blinken a nonpaper while David Arakhamiya looked somewhat brash suggesting that the US should appoint a special US envoy and make Chargé d'Affaires Kristina A. Kvien the US Ambassador  in Ukraine.
On his visit to Kyiv the new US Secretary of State, like his predecessor Mike Pompeo, met with Metropolitan Epifaniy. By doing so, Washington threw weight behind the Ukrainian Othodox Church.  The reported attempts of Andriy Yermak to block this meeting raised many people's eyebrows considering how important the freedom of religion is for the US.
The Ukrainian officials barred several independent media outlets from the press briefing of Zelensky and Blinken, citing Covid pandemic restrictions.  A government in developed countries would not ignore media outlets that voice oppositional concerns.  Sidelining   'Bukvy', 'Pryamyi', '5 kanal', and 'Espreso' did not spare Zelensky of uncomfortable questions, this time coming of a BBC reporter. Andriy Yermak, still reeling from the revelations about his call with Rudi Giuliani, was also in attendance, which shows that Zelesnky failed to listen closely to what Blinken was saying.
Antony Blinken called Russia and oligarchs the main challenges for Ukraine's reforms. It is a clear statement suggesting that behind closed doors the US officials were more articulate about Zelensky's plan to meet Putin and his relations with Kolomoyskiy.
The US Secretary of State cited corruption as a grave threat for Ukraine. It sounded as a stereotyped issue for relations between Ukraine and the US but we should not be naïve assuming that Washington may overlook the situation when you start to exploit the corruption issue for personal gains.  Zelensky's 'new faces' have cleverly used the agenda for two years telling stories on '1+1" TV channel.
Dismissal of "Naftogaz' CEO Andriy Kobolev hardly went unnoticed for the top US officials. The US and European Union have put so much money and effort into reforms of corporate government in Ukraine and they will hardly take roll-back of this reform.
Volodymyr Zelensky sees 2021 as a year that will bring fundamental changes to the US-Ukraine relations. Such declarations need to be backed up by policies that stimulate trade and economic ties. In 2020, the two-way trade between the two countries totaled $ 3,9 billion while trading with Belarus and Poland amounted to $4 billion and $8 billion respectively.
Joe Biden visit to 'Crimean Platform' summit is still in doubt, much like the chances of Zelensky's official visit to Washington.
There is still a chance that the two presidents will meet in the aisles of the UN General Assembly meeting in September unless it will have a videoconferencing format.
The Ukrainian president is committed to signing a new partnership deal with the US but it is still unclear what Kyiv expects of it. Is it a deal that enables membership action plan or major non-NATO ally status?   Is it a deal that provides defense guarantees?  These questions remain unanswered given the role of Ukraine in geopolitical standoff between the US and Russia.
In his interview with 'Radio Free Europe' Blinken said that the Biden administratieon would consider Ukraine's expected request to buy American missile defense systems and other weaponry and credited Ukraine for its restraint dealing with Russia's provocations. This quote can translate in supplies of defensive weapons and military equipment but promises no latest tech offensive weapons.
Strengthening the US and Ukraine partnership in the Black and Avos Seas. There has been some talk of the US Navy warships reading to accompany cargo ships in the Black and Azov Seas.  It is a far-fetched scenario given the effective Montreux Convention and 2003 Ukraine-Russia treaty that defines the Azov Sea as inland waters of the two countries.  In April, the US dropped the plans to deploy two destroyers to the Black Sea not to provoke escalation.
Overall, Antony Blinken visit showed that the US administration is not inclined to 'freeze' the relations with Kyiv; such move would be seen as caving to the opponents. When it comes to transatlantic partnership, Washington now clearly expects Kyiv to walk the talk.