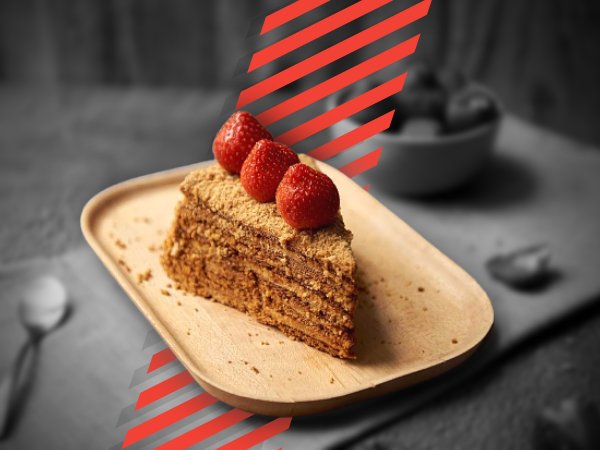 As the legend goes, medovyk appeared in the 19th century, when it was served to the wife of emperor Alexander I – Elizabeth. She hated honey and honey-based dishes, but the new cook did not know about it. He made a honey tart for the empress, and she liked it very much.
Since then, due to the simplicity of preparation, medovyk has become a very popular dessert.
Medovyk recipe from Dmytro Martseniuk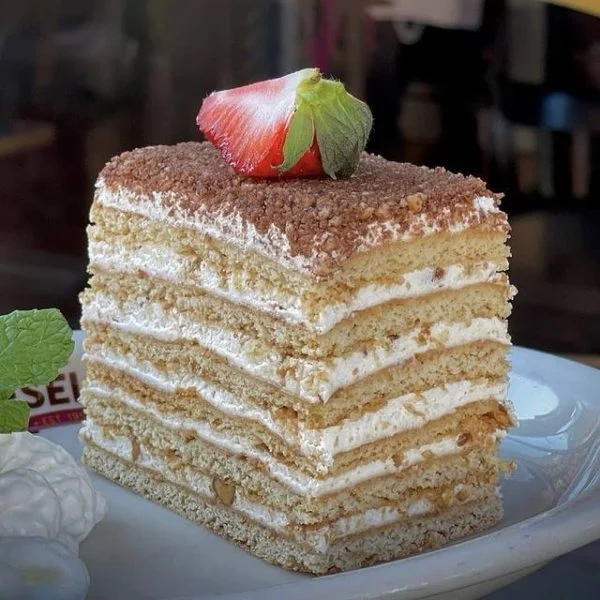 Ingredients:
100 g

butter

100 g

honey

150 g

sugar

1 tsp

baking soda

2 eggs
500 g

flour
Filling:
1 l sour cream
280 g

sugar

16 g

vanilla sugar

thickener (if the sour cream is not whipped).
Cooking:
Put butter, sugar and honey in a saucepan, put on low heat until the mass melts.Then add soda and cook until caramel.
Add eggs to the cooled mass and mix.
Then add flour to the honey mixture and knead.
Next, divide into 10 equal parts, cover with plastic wrap so that the dough does not dry out, and roll out to a thickness of about 2 mm.
Bake for 5 minutes, be sure to prick with a fork.
The filling is very simple: whip sour cream with sugar and vanilla.
Put filling over each layer and leave in the fridge for 2 hours.
The dessert is ready, enjoy!
A Vinnytsia native, Dmytro Marseniuk studied international economic relations at the Kyiv University of Tourism, Economics and Law.
Now he is an executive chef at Ukrainian East Village restaurant 'Veselka', the eatery with a long history. Founded in 1954 by Ukrainian immigrants Volodymyr and Olha Darmohvaly, the restaurant boasts the menu featuring several kinds of borscht and 10 types of pierogi (varenyky), and other staple Ukrainian dishes.