Bukvy investigation studied discrediting tactics and shadowy methods Zelensky's officials and his surrogates use on social media.
Ukrainian top officials are often cited claiming that they do not have time for mind games on social media.
Zelensky offered his own rationale:
"I don't follow the social media. I make a point of staying away from Facebook. It has been this way since my "Kvartal" days when the army of Petro Poroshenko trolls was deployed against me. Well, it could have been his men, or his operatives' ".
Citing a decline of the Ukrainian president's approval ratings, his top aide Andriy Yermak claimed:
"We have an absolutely different system working against the government. It is bots, anonymous 'Telegram' channels. Today you can see any matter, be it a positive or neutral, getting misinterpreted. Big money is being channeled into this. No need to tell where it is coming from and who is behind it because it is what everybody knows".
Zelensky and his aides' arguments follow the logic where any negative narrative on social media is planted by 'He-who-must-not-be-named" (Poroshenko) that allows them to slam virtually anyone failing to toe the party line.
Complaining about "unfair treatment" from "He-who-must-not-be-named", Zelensky officials fail to notice numerous social media accounts, pages and groups that heap praise on the president and bash his political opponents.
The earlier "Bukvy" report on the policies of Zelensky team on social media exposed scores of Pro-Zelensky Instagram and Facebook pages and groups that funneled ads promoting the president as "a Master of Ukraine", and spending vast sums on self-promotion campaigns with price tags in Russian roubles.
A close look at pro-Zelensky networks on social media helped "Bukvy" to trace over 20 politically-themed public pages and 100 fake accounts,. Among those were the Facebook pages "Pro Ukrainy", "Novyny Ukrainy", "News Time", "Stolychnyi Express", "Ukraina yak ye", "Ukrainsky Visti", "Novyny krayny", "Pro golovne", "Kyiv.Novyny", "Kyiv News", "Tilky Pravdyvi novyny", "Pravdyvi novyny", "Narodni visti", "Stari Polityky", "Chas novyn", "Resonans UA", "PravdaUA", "KyivUA", "RealiyUA", "Ukrainskiy Svit".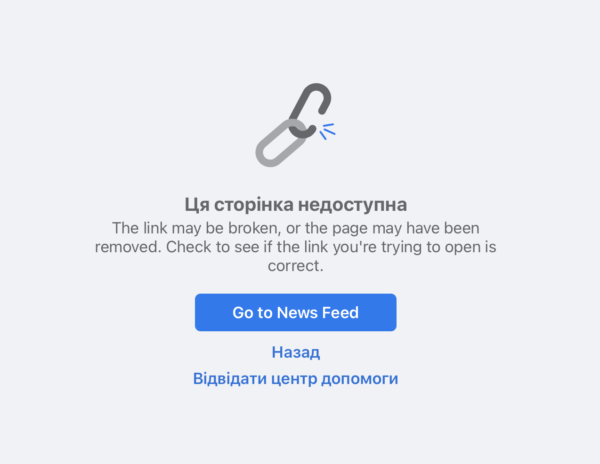 The accurate numbers of pro-Zelensky pages and groups can be probably much bigger.
Most of these pages and groups were taken down prior to "Bukvy' investigation. The reasons behind their removal are unclear. It can be alleged that they either tried to cover up own tracks or were ultimately "noticed' by social media moderators.
Boasting from few hundreds to several thousand subscribers, these pages and accounts were created within the last two years with the "earliest" one getting going on September 18, 2018, roughly half a year before Zelesnky claimed presidency.
The pages and accounts followed the same pattern of regular content updates coming from various 'news' cites that would heap praise on Zelensky government accomplishments and routinely rout his political rivals.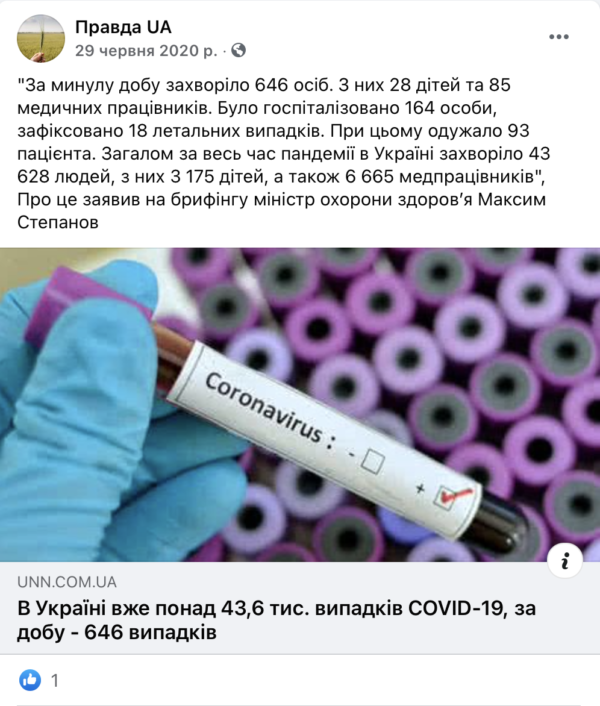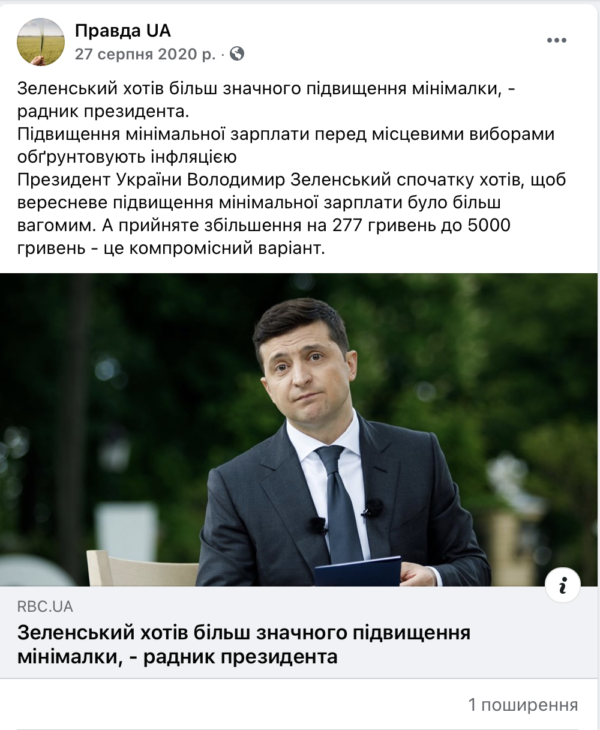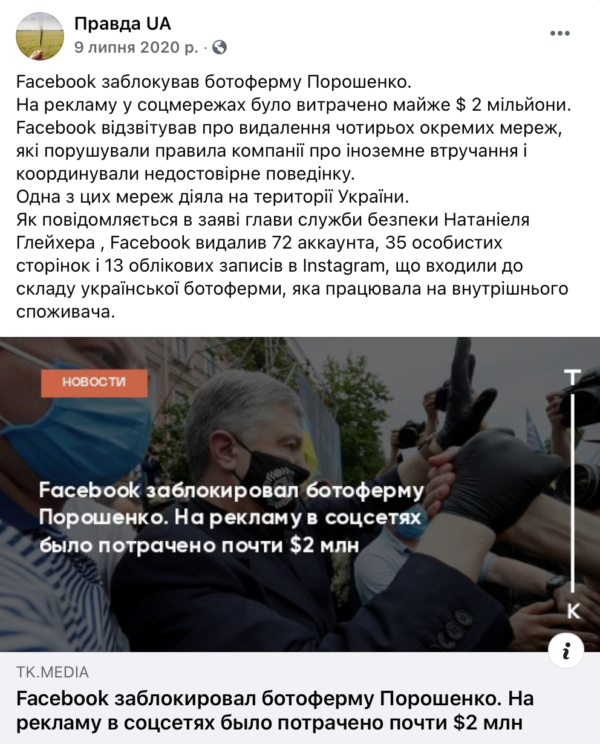 The detected accounts and pages regularly slipped political ads in their Feeds that echoed and promoted Zelensky officials' messages and narratives.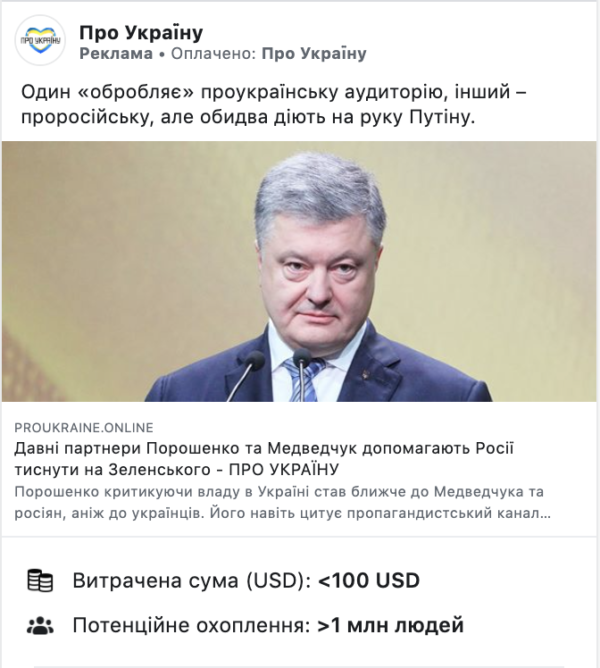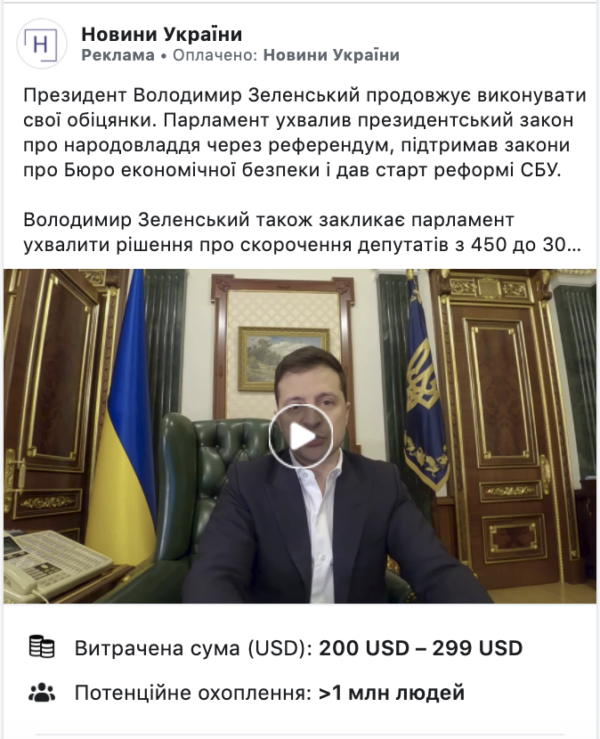 Political ads the pages featured can still be traced down.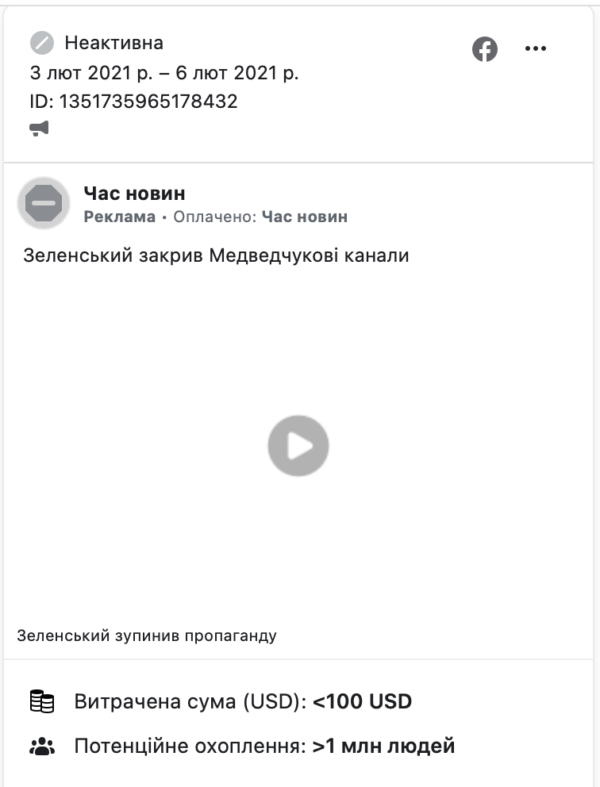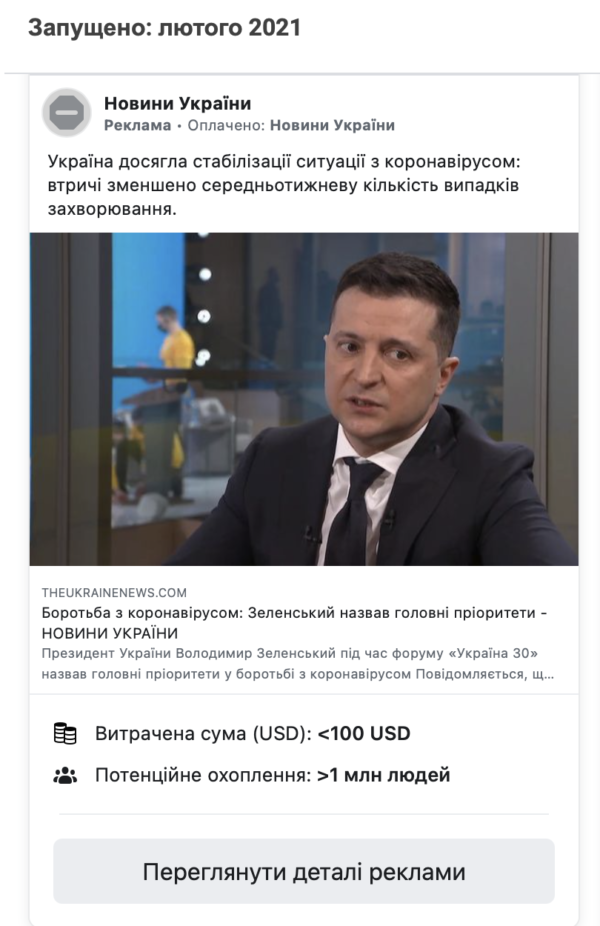 Facebook Ads Library archives and the ads recovered by "Bukvy" suggest that ads' spending of pro-Zelensky accounts and groups amounted to 778,000 hryvnas.
Political ads: how it works
To run ads about social issues, elections or politics, you have to get authorized by a social media platform that requests your identification details (an organization's name, a valid email address, and a post address, for back-up).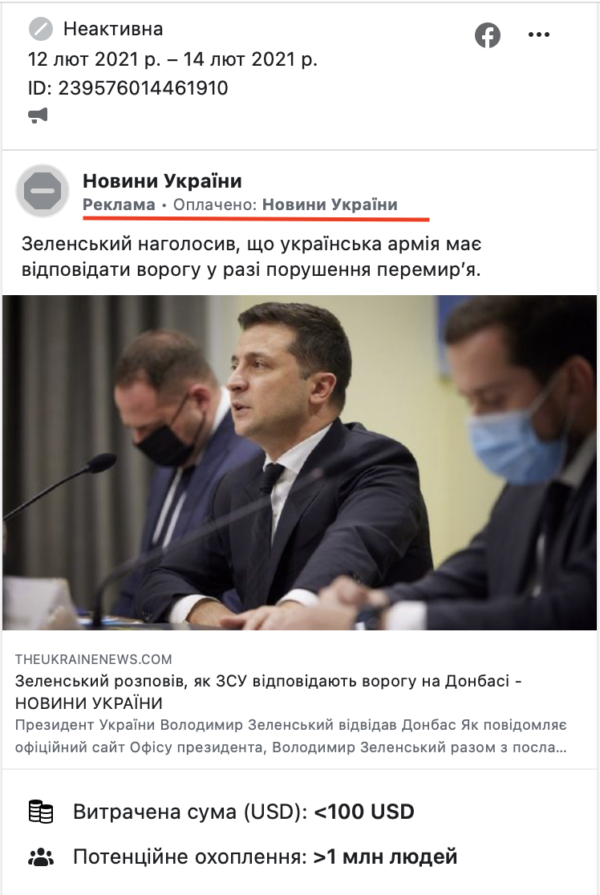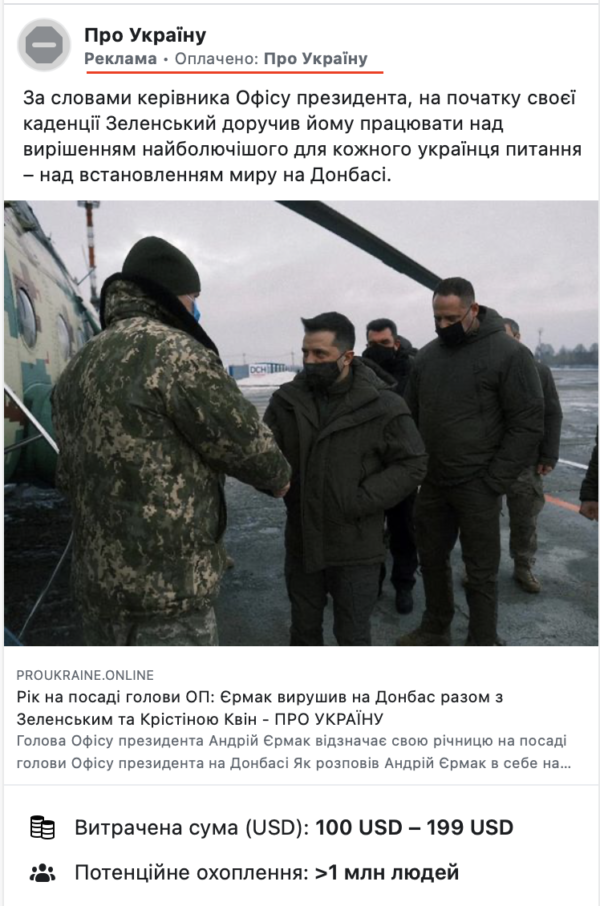 The "Bukvy" investigation found that pro-Zelensky network regularly paid for self-promotional ads.
How pro-Zelensky network of pages and accounts operated
To push the needed agenda, the network used three-tier information campaigns
News generation
It would start with a post of some political expert or social media influencer, or with a story from an obscure news site that came to serve up as a news source. Such news would routinely come from Petry Oleschuk, Petro Okhotin, Serhiy Lyamets, Volodymyr Fesenko, and Serhiy Ivanov.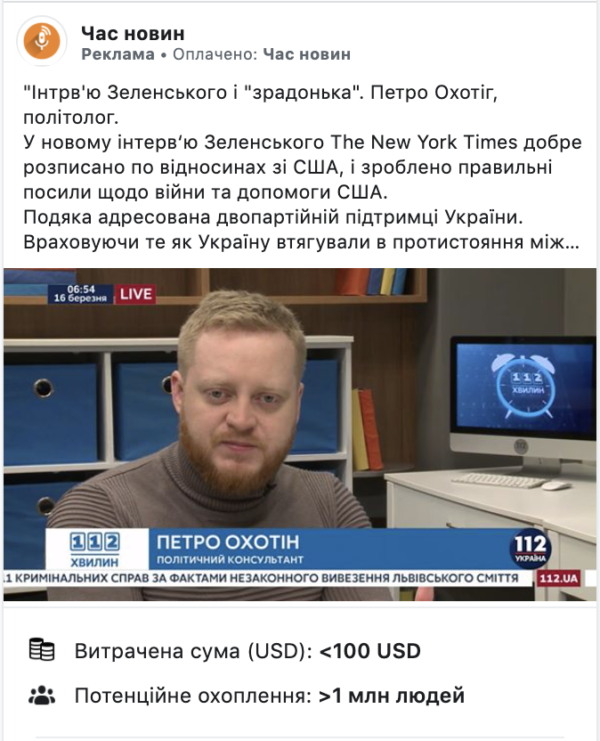 Designing the news
The stories and posts would cite 'experts' opinions and were 'shared' across the platform on the affiliated Facebook accounts and groups.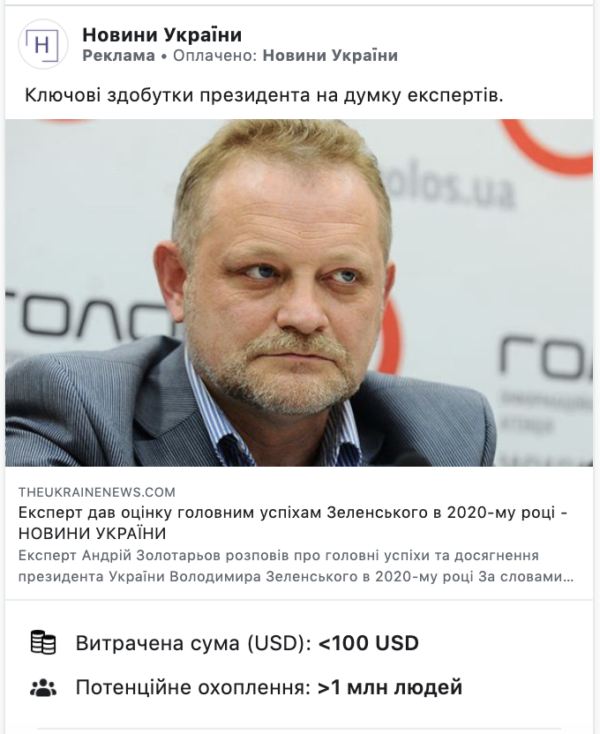 Spreading the news
Facebook ads helped to promote the story across the platform and boost engagement.
Scores of fake accounts tagged as 'promotional' made it possible to plant messages in news feeds of different Ukrainian groups on Facebook.
When it comes to sharing the post, the 'shares' numbers would vary. Given each message importance, the 'story' landed on up to 200 local groups' Feeds. It created 'organic" engagement and interactions that saw the planted story reaching out to several thousand people. Micro-targeting can give such strategy a clear edge making it possible to appeal to niche groups, say, community of a certain city or a small town.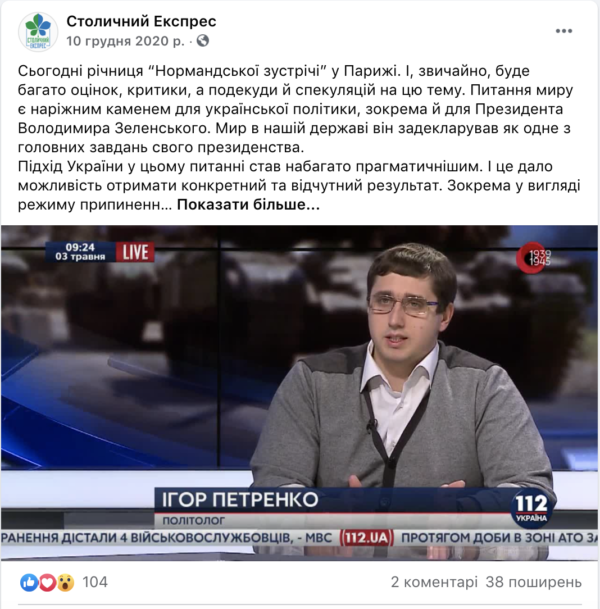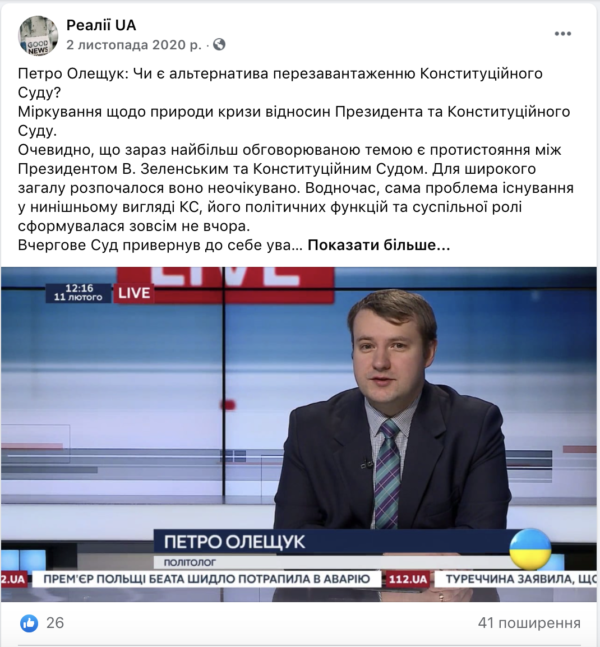 Main 'targets' of Pro-Zelensky network
Unsurprisingly, Petro Poroshenko has long been a main target of discrediting campaigns launched by pro-Zelensky bots. Many online public groups were flooded with negative narratives about the former president insulting and mocking him for involvement with Minsk Agreements and alleged, yet unproved, ties to Viktor Medvedchuk. Notably, Facebook promotion of the single post that questioned Poroshenko's New Year vacation cost over $1,000.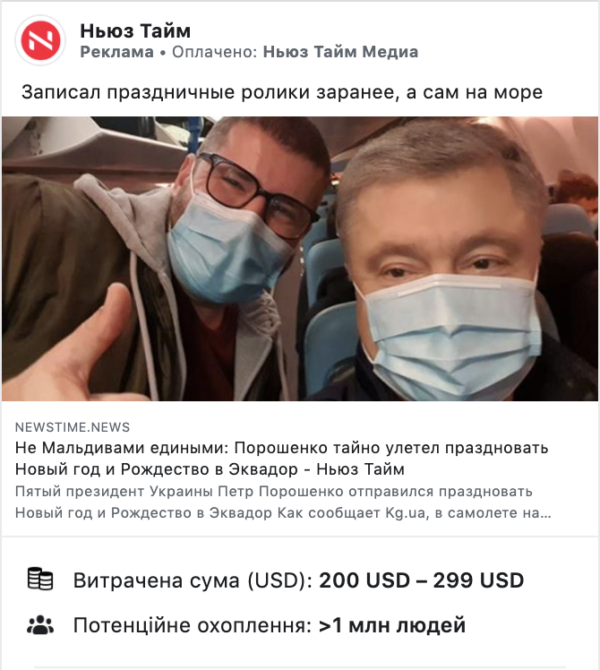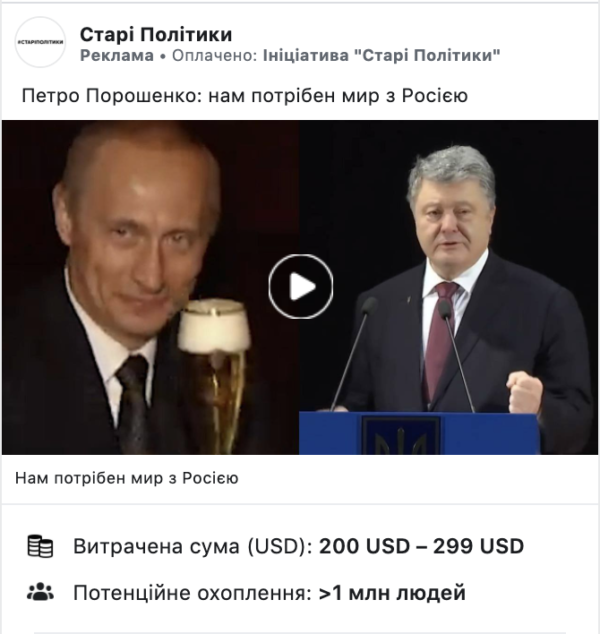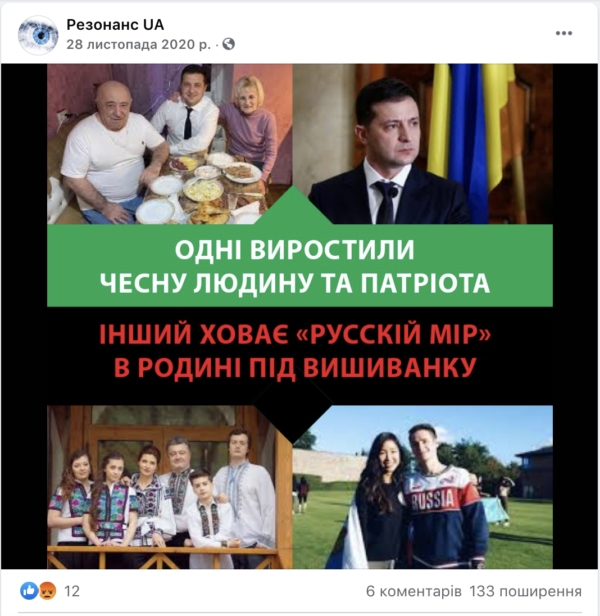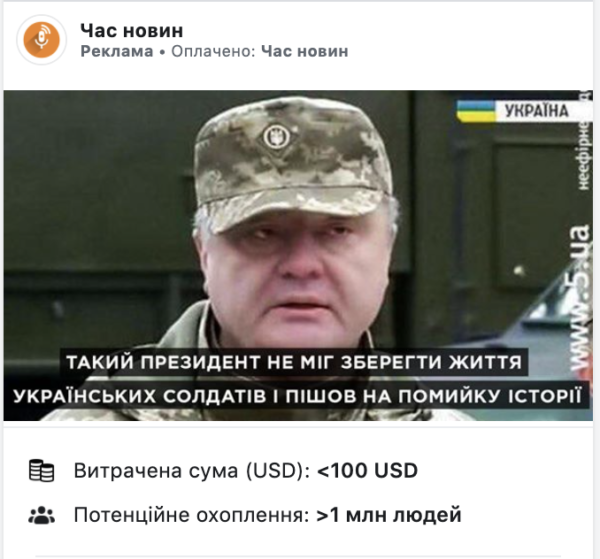 "Stari Polityky" (Political Have-beens) Facebook page, launched before the presidential vote of 2019, has been long known for its assaults on Petro Poroshenko.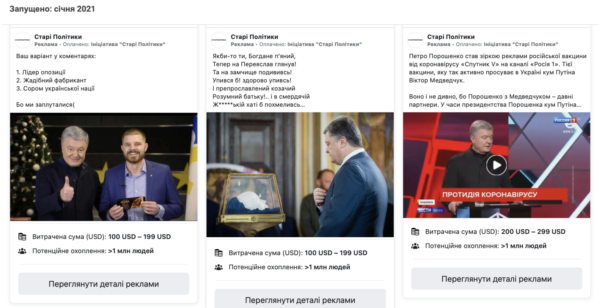 The few last month saw a growing criticism of Dmytro Razumkov. The rough estimate of the campaign spending shows that Facebook ads critical of Ukrainian parliament speaker cost about $1,400-1,800.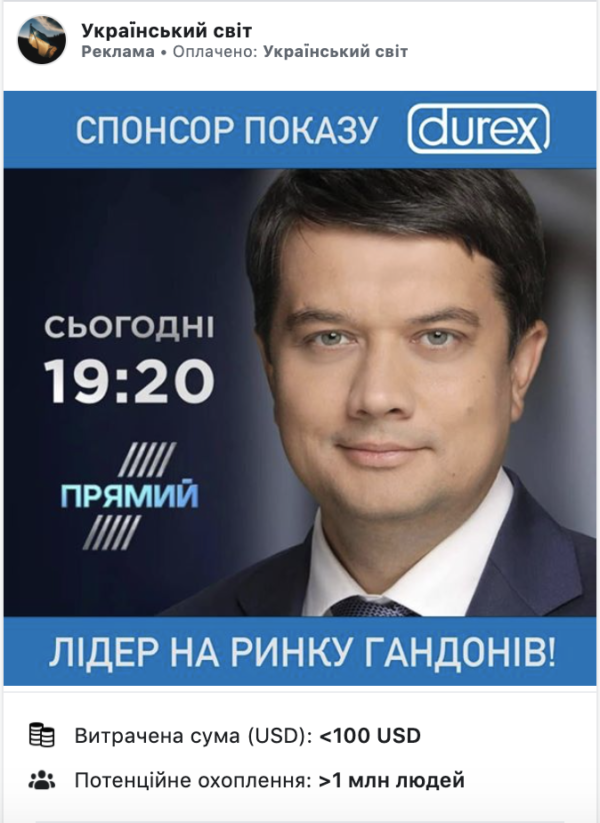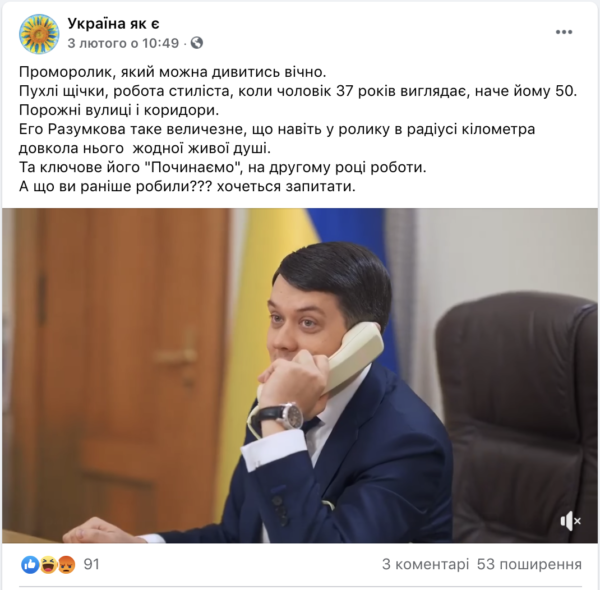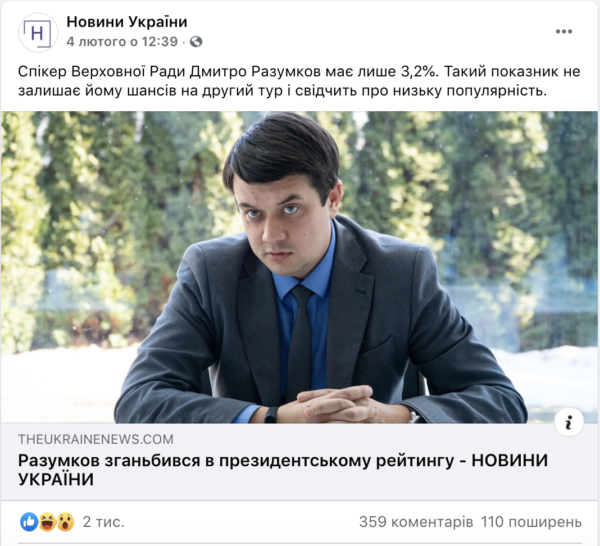 Pro-Zelensky 'bot farms' also used discrediting claims and memes to target other political opponents and critics of the Ukrainian president.
On calling himself "Putin's present to Zelensky", Oleg Sentsov, a prominent Ukraine's film director and independent activist, soon found himself taunted by pro-Zelensky accounts and pages.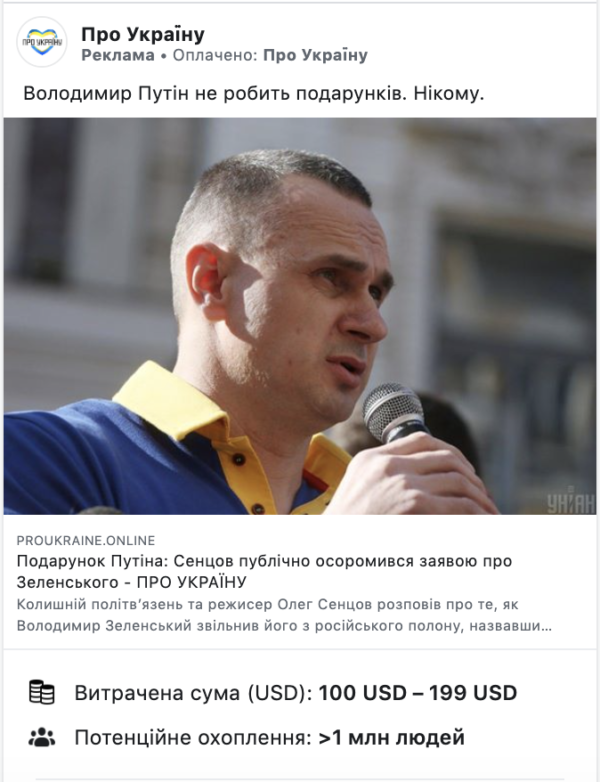 Cherkasy Mayor Anatoliy Bodnarenko faced angry reaction from this network after challenging Zelensky's quarantine policies.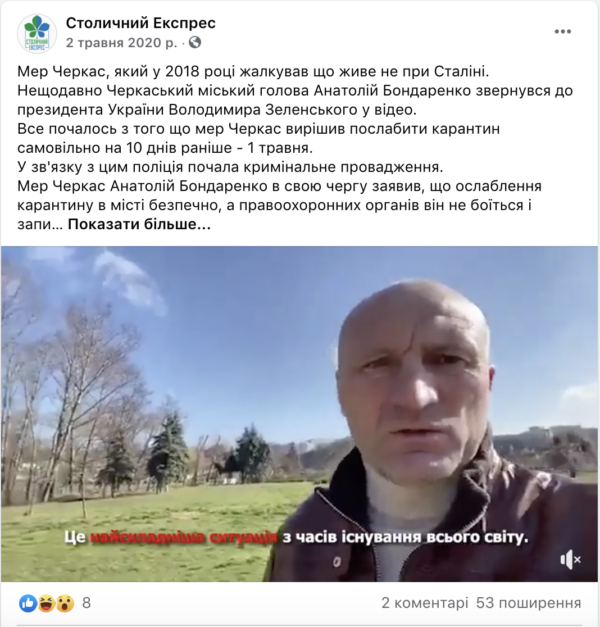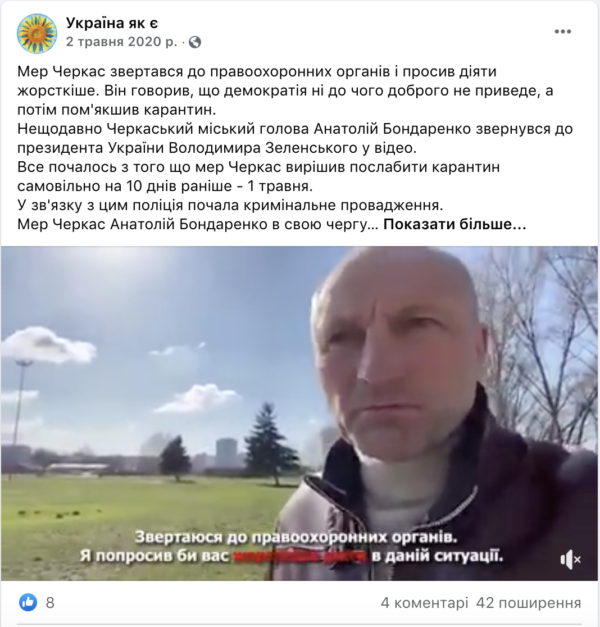 'Diesel Show' variety show suffered the bot farm revenge following their plagiarism accusations against Zelensky's "Kvartal 95".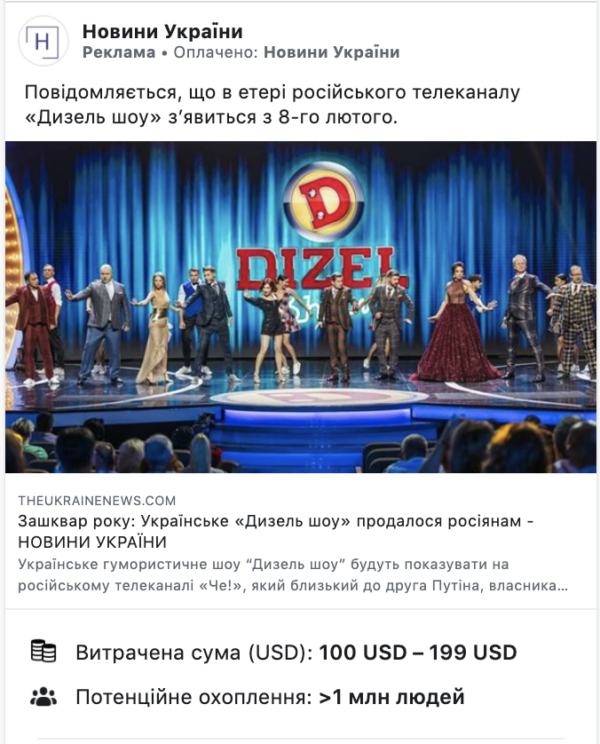 Politicians Andriy Bohdan and Geo Leros who were allegedly involved with Andriy Yermak leaked tapes scandal, soon were branded 'renegates' by Zelensky party-liners and also took some heat from the network.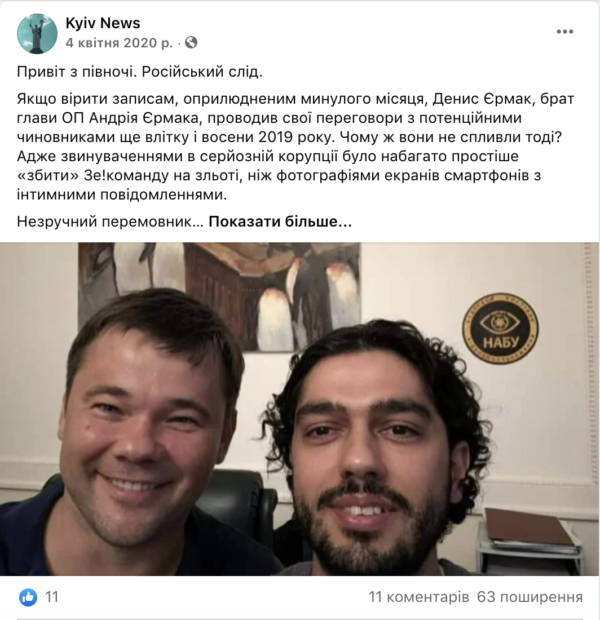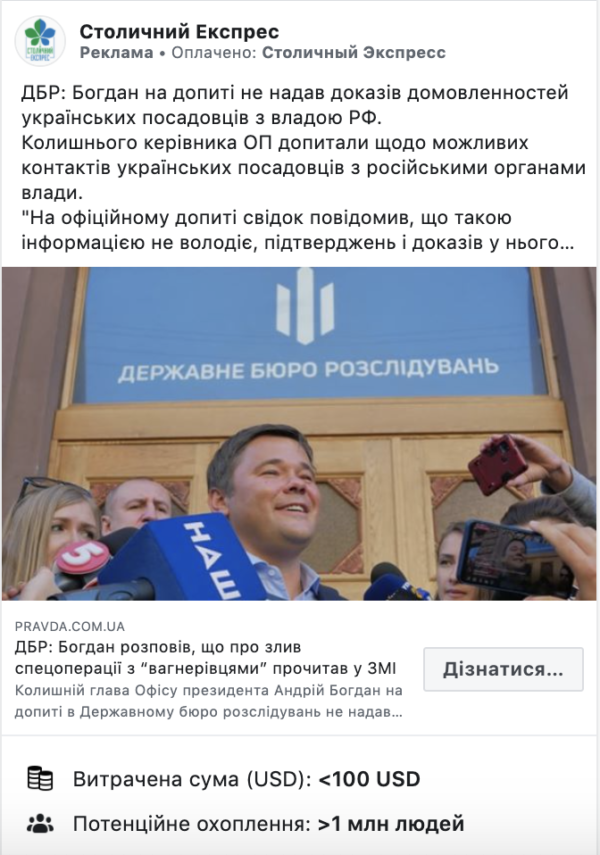 Zelensky's feud with Ukraine's Constitutional Court Head earned remarkably 'moderate' response from the network.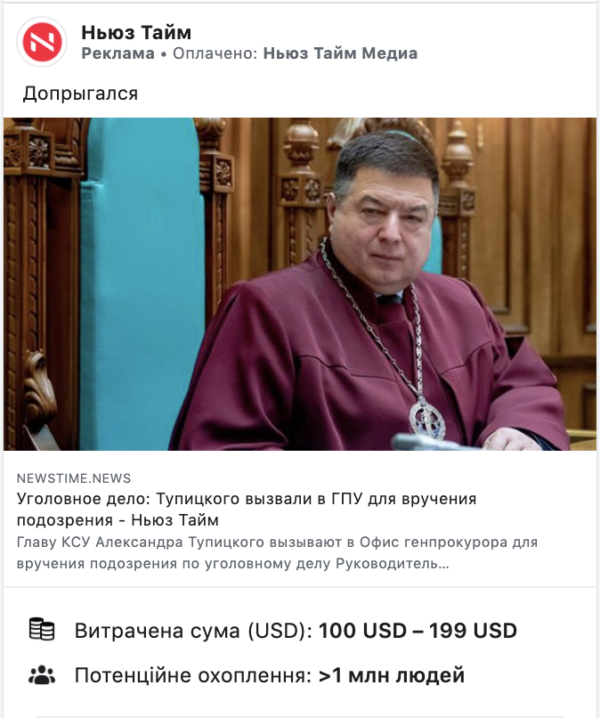 Fake accounts and trolls used memes and jibes to attack Volodymyr Klichko and Arseniy Yatsenyuk.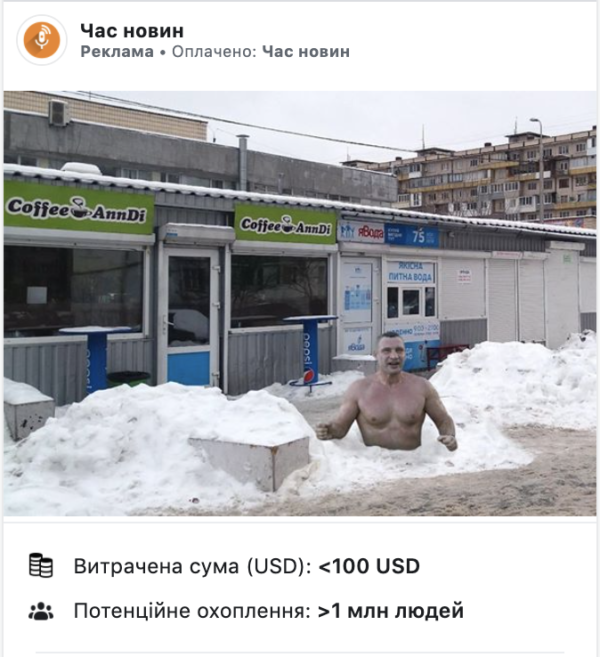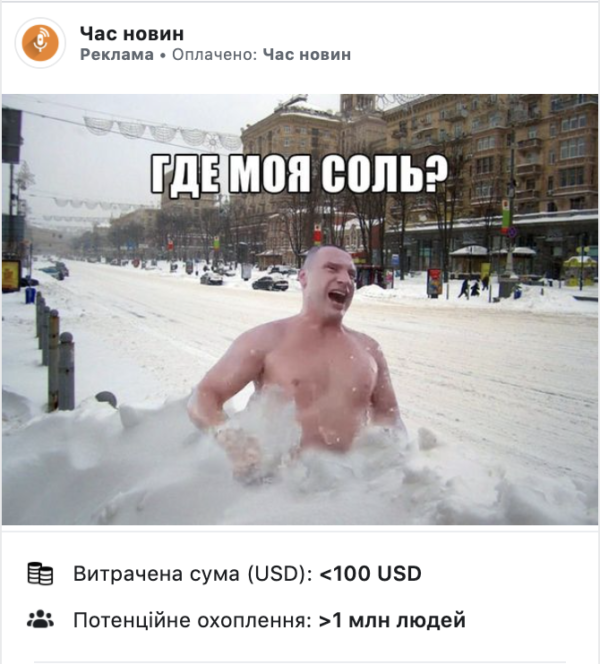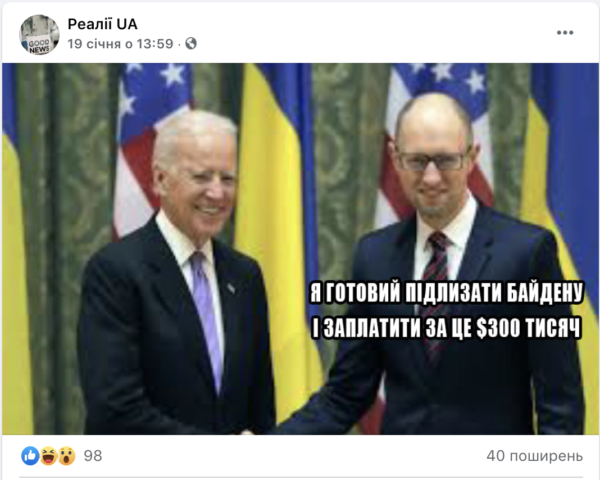 Who benefited from these political manipulation campaigns on social media?
The network primal aim was to boost Zelensky. The groups and pages provided his videos' engagement and were supportive of his legislative policies and feuds with political opponents.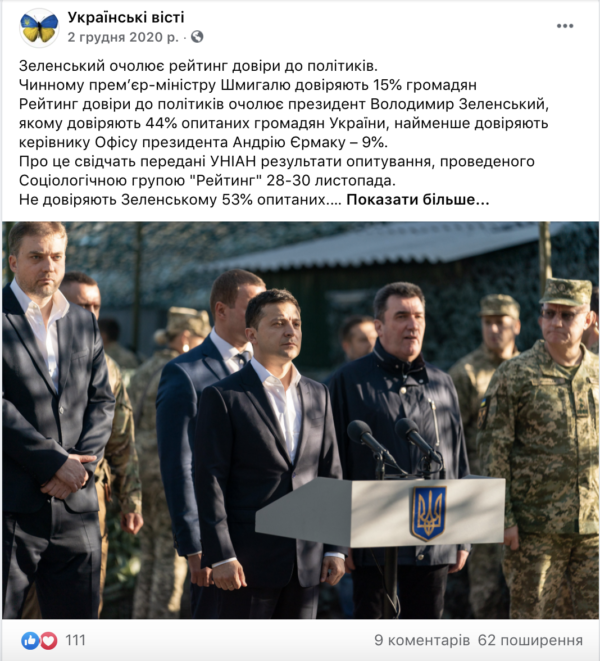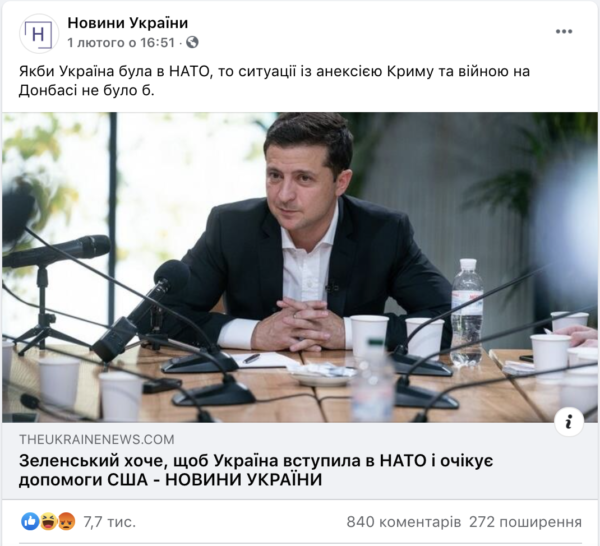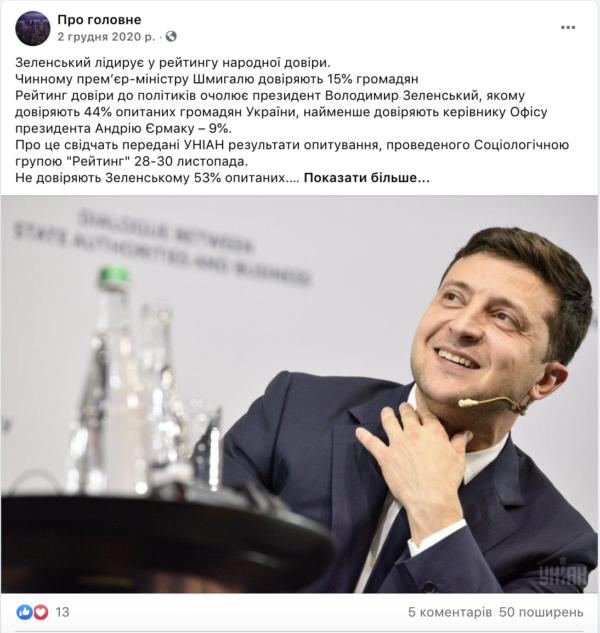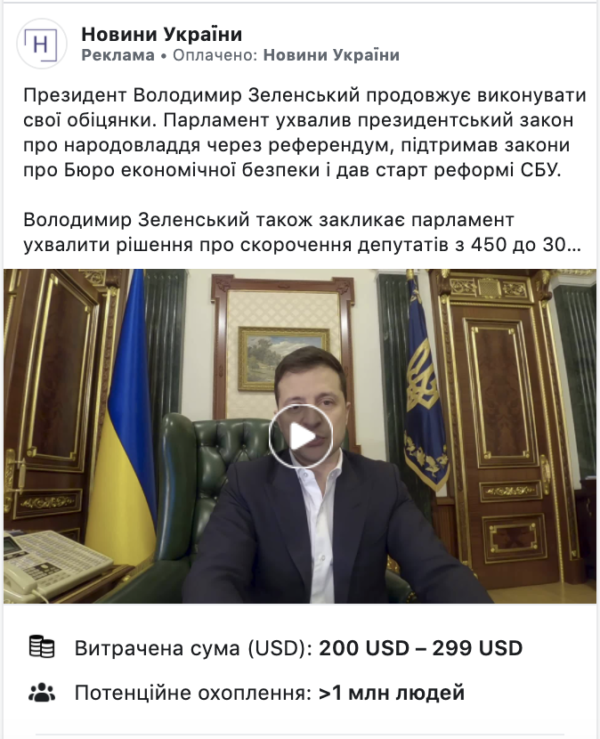 The network pages and groups were also used to promote messages and narratives from Andriy Yermak, top aide of the Ukrainian president.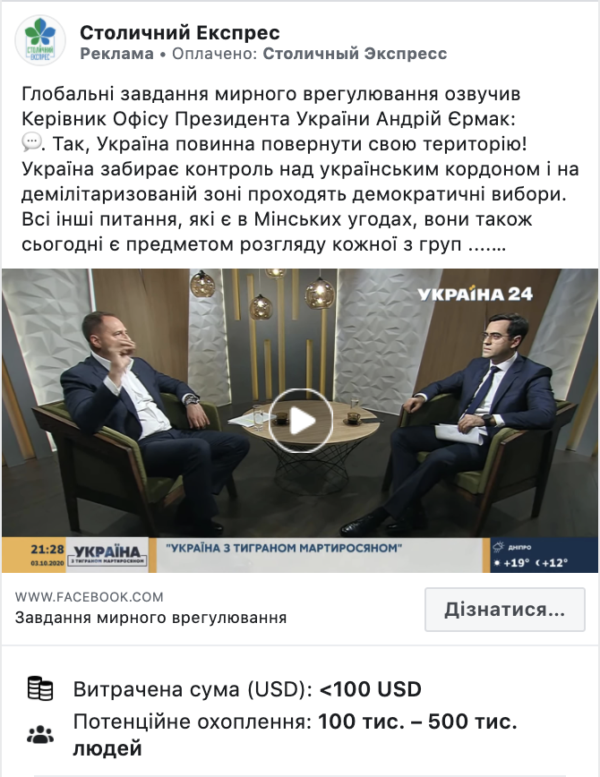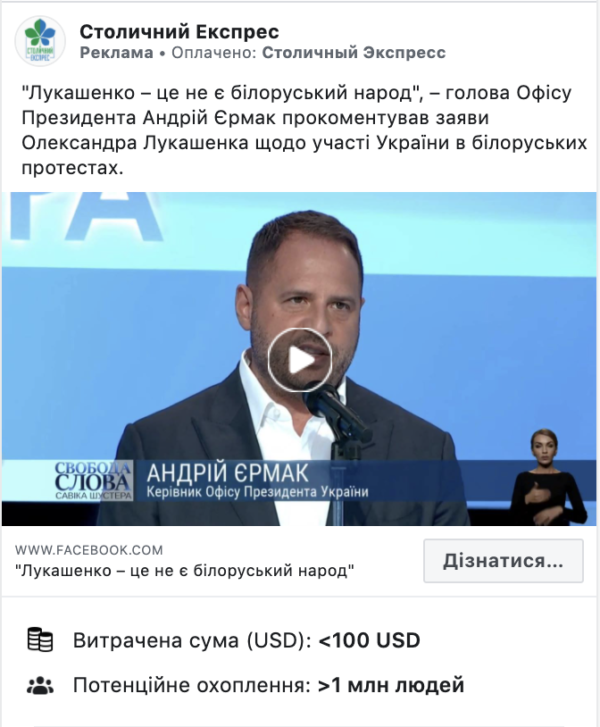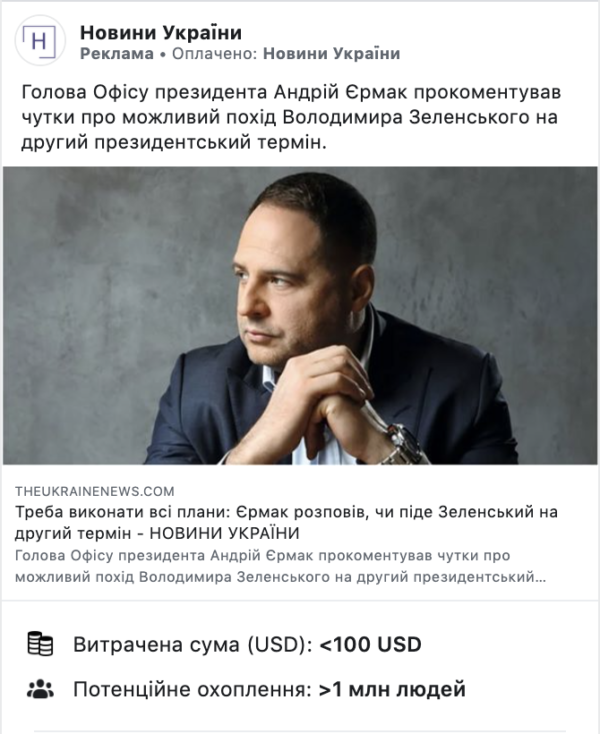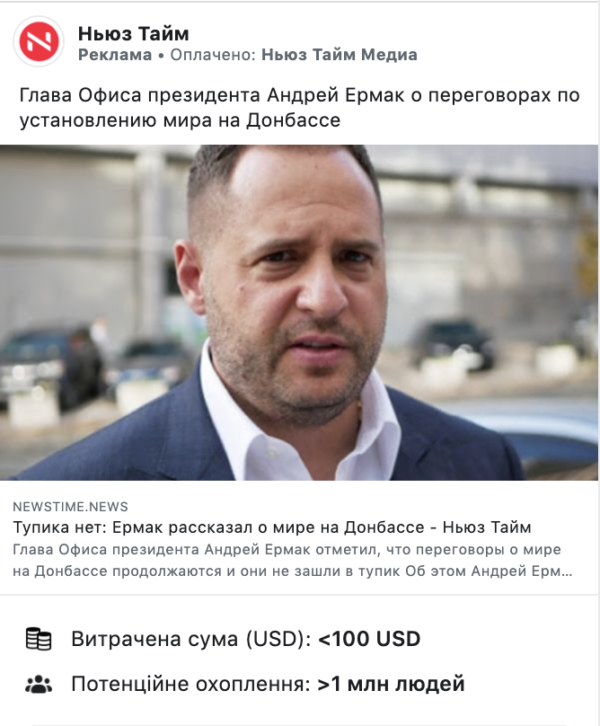 Such stories often cite other Zelensky's operatives Oleksandr Kornienko, deputy head of "The Servant of People" parliamentary faction, Roman Leshchenko, State Land Registry Head, MPs Yevheniya Kravchuk and Oleksandr Kachura.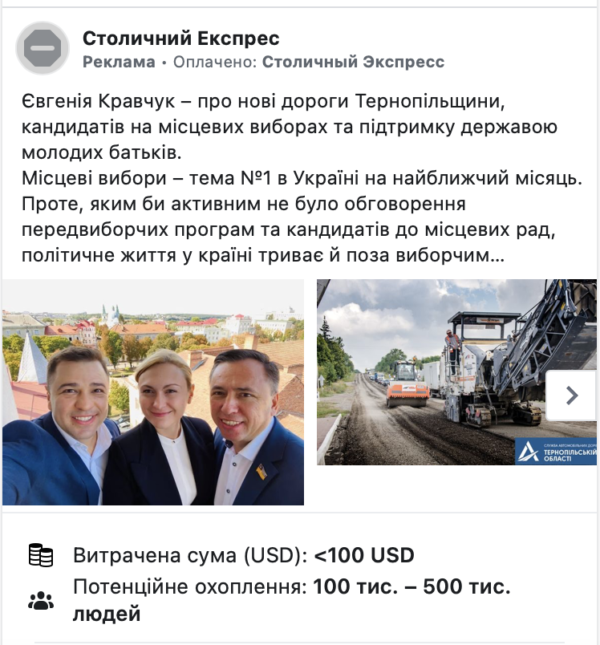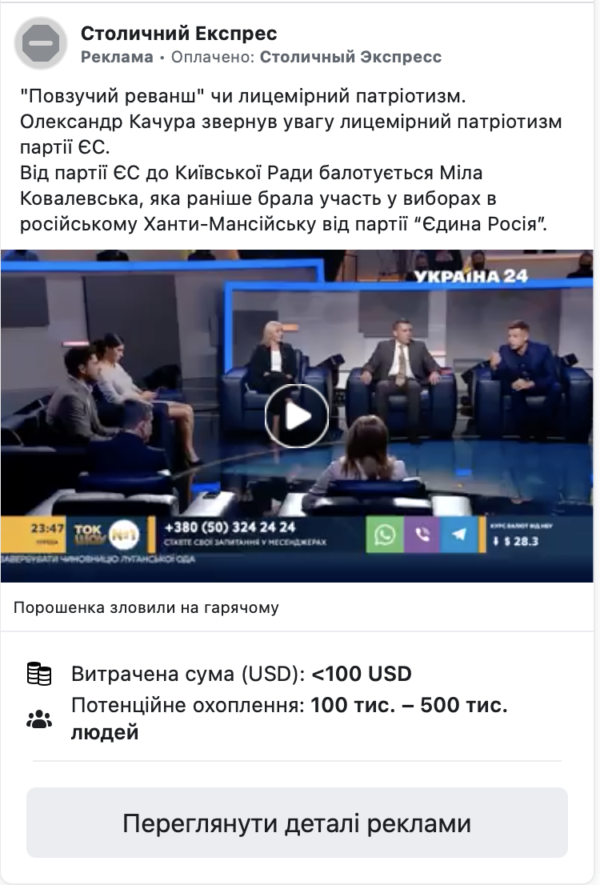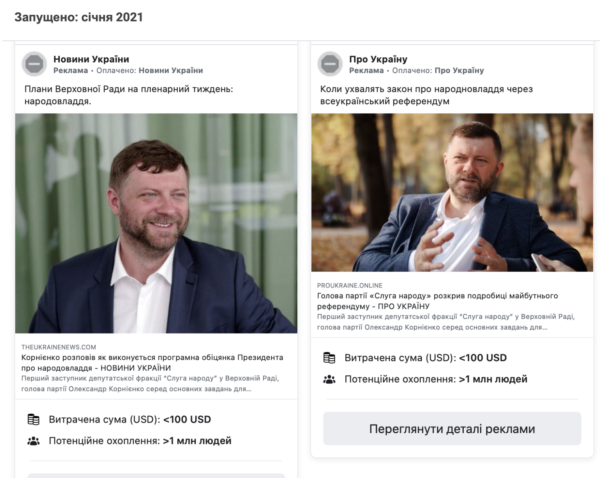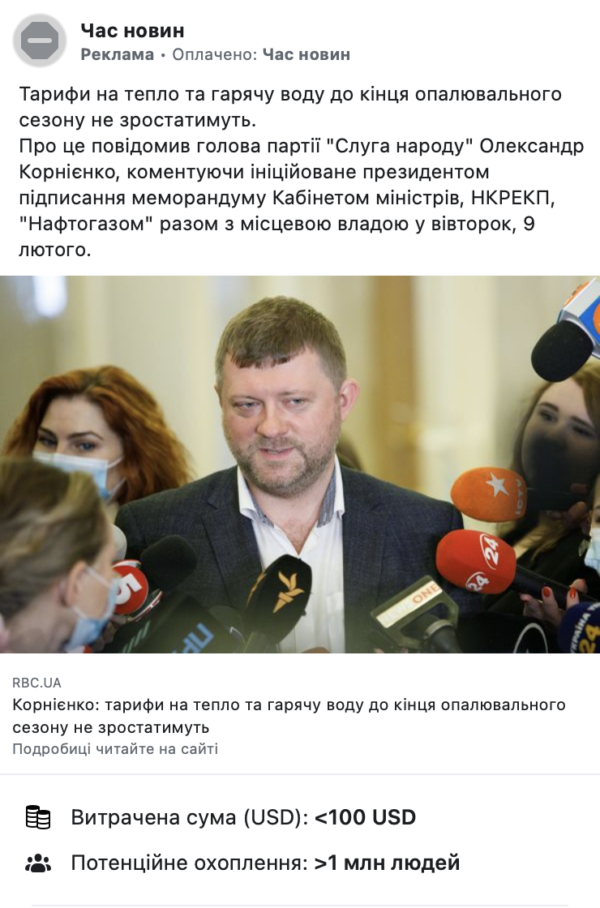 How do we know that it is the network with coordinated activities?
All of them have recycled the same bots for engagements.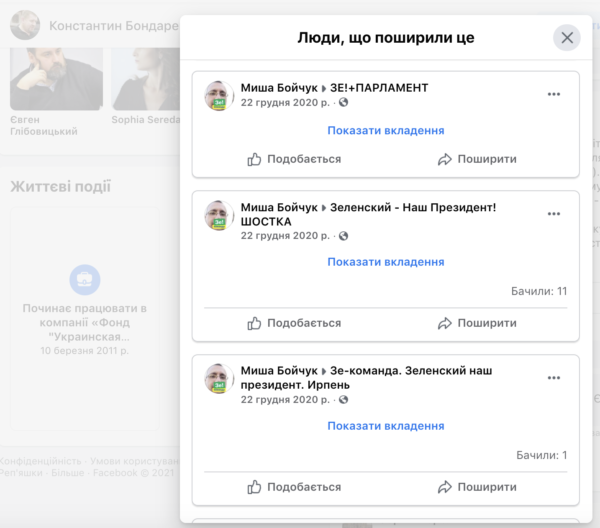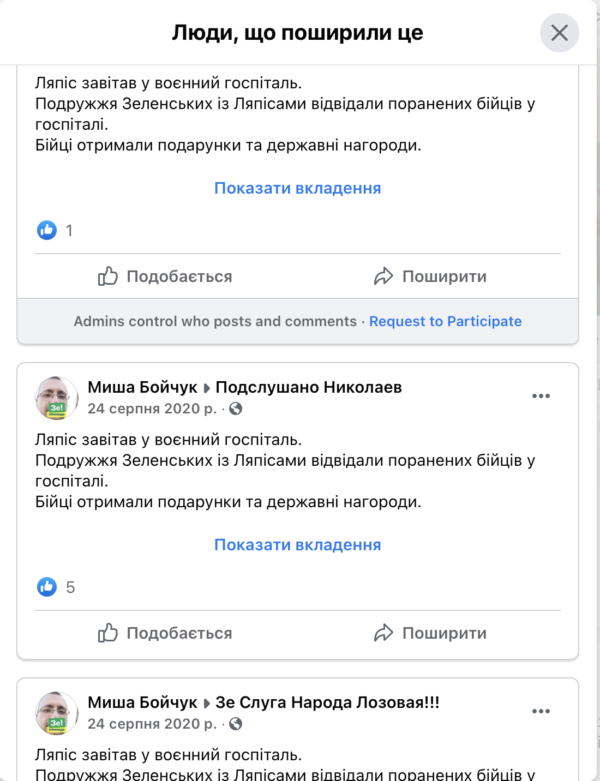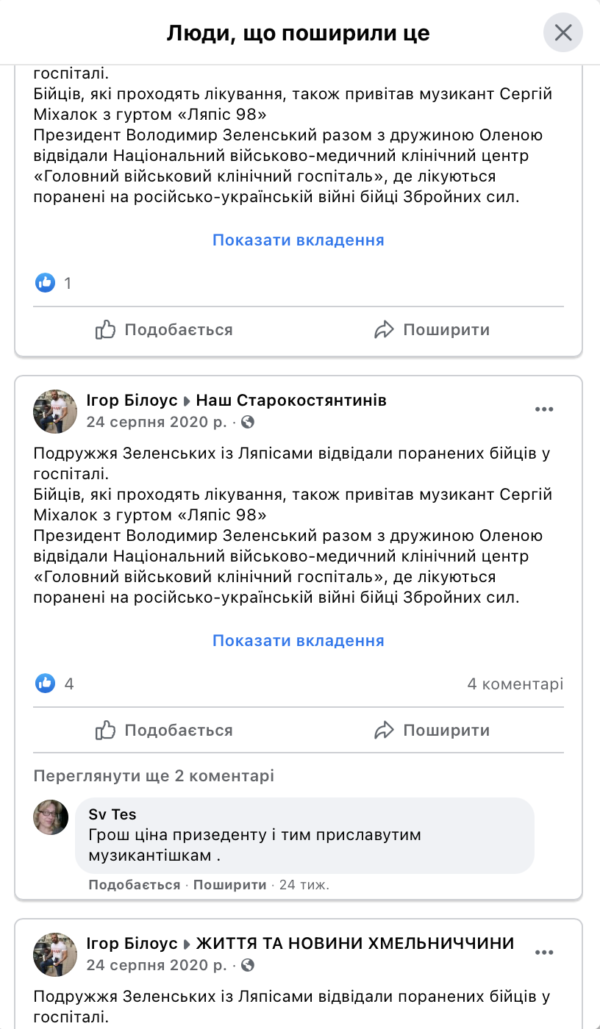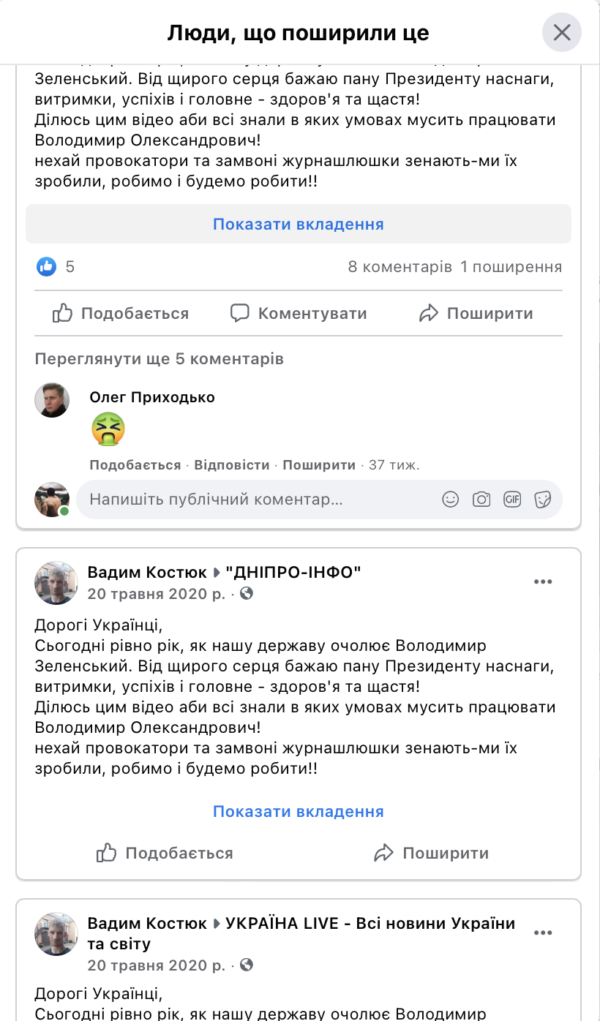 They have used the same Facebook accounts to share and spread content.
"Bukvy" found the network running 104 major bots and several dozens minor ones that have been used for political information campaigns targeting Ukrainians on Facebook.
Some Facebook users who were supposedly part of the network activities would use different URL and profile names, which is a clear sign that persons involved is trying to obscure their identities to avoid Facebook moderation. We traced a Facebook user 'Adrey Boyko' with the URL name /dmitriy.plaxotnyi/ Another profile in the name of 'Andrey Kushnir' would come with the URL /mykhaylo.brovko/. This suggests that these accounts are fake and have no real people behind them.
The activity logs of fake accounts and suspicious Facebook groups show that their posts were used to drive up engagement. The last six months saw 'Pasha Komarnitsky' account sharing in "Overheard in Dubno" Facebook Page six Serhiy Lyamets posts, four Petro Okhotin posts, and two Zelensky's aide Mykhailo Podolyak posts.
Another "Vladislav Tkach" account was seen regularly sharing President's Office announcements and posts of the above mentioned Lyamets, Okhotin, Podolayak and Yermak.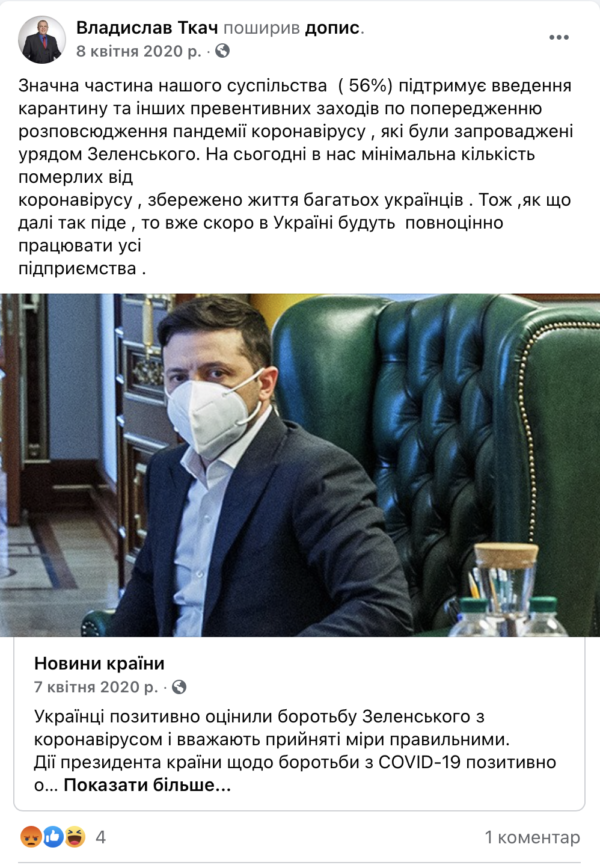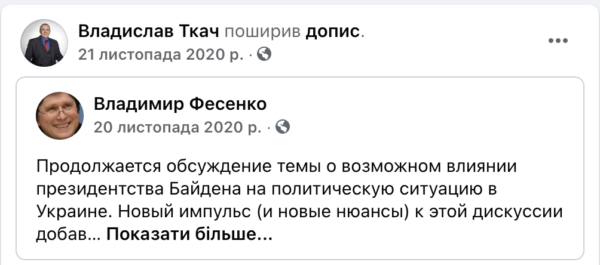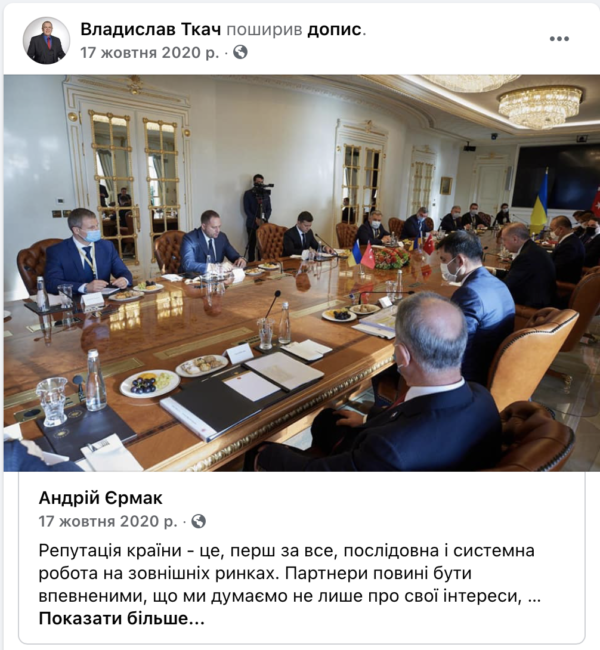 Coordinated activities and mass-posted content
Posts with the same news story would appear on a number of the pages in the time-synchronized manner. Scrawling down the news Feeds would bring you the almost identical or overlapping stories with the similar creative narratives.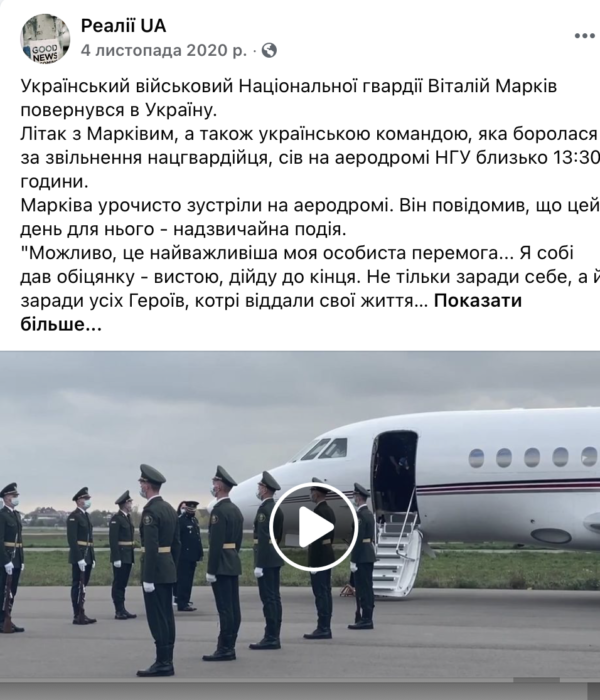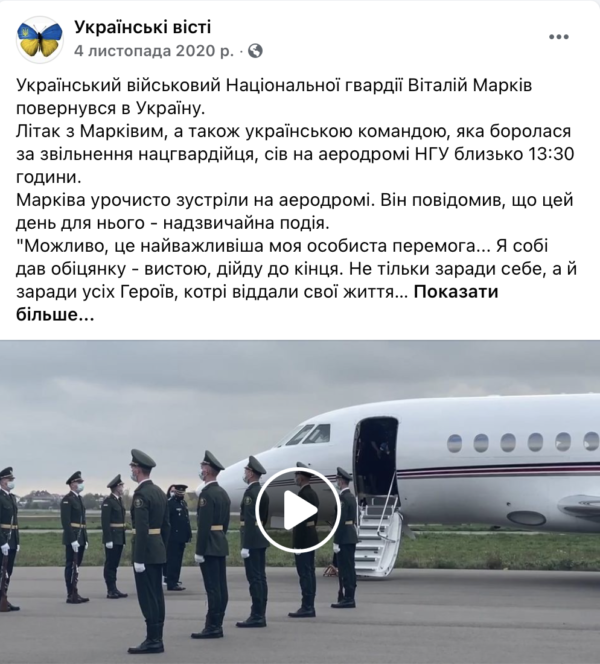 News delivery similarities
Most groups linked to the network use the similar names and deliver news content in the similar manner.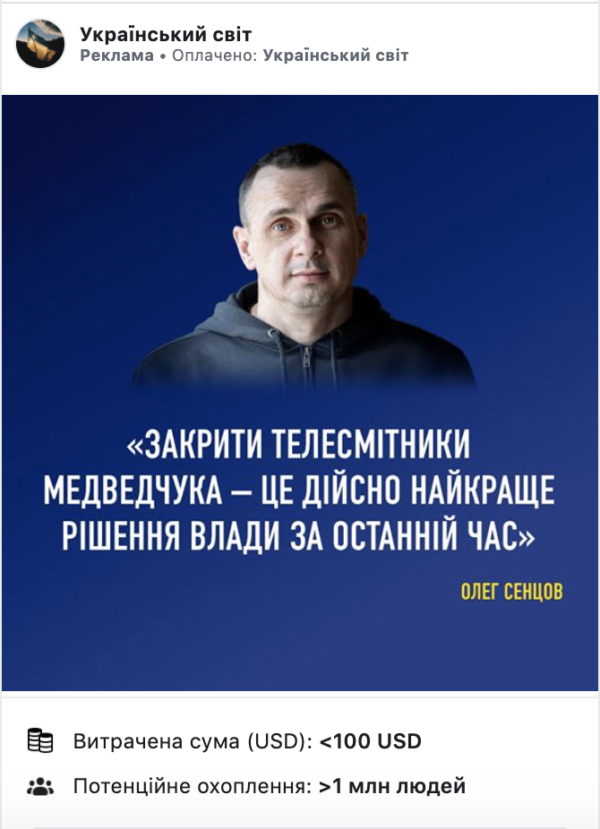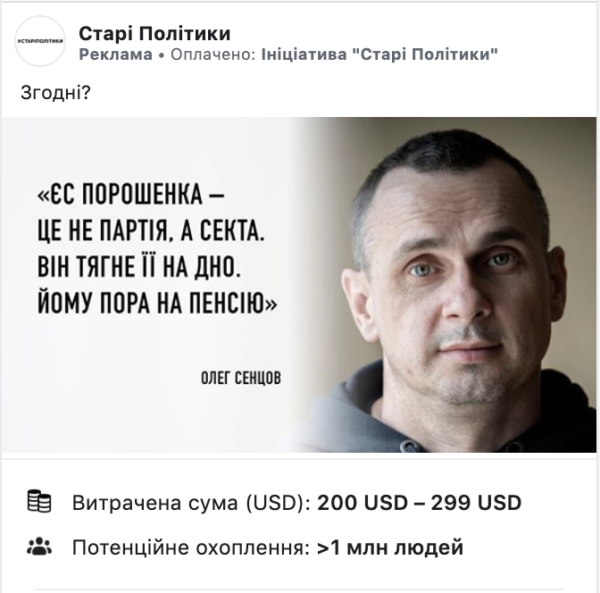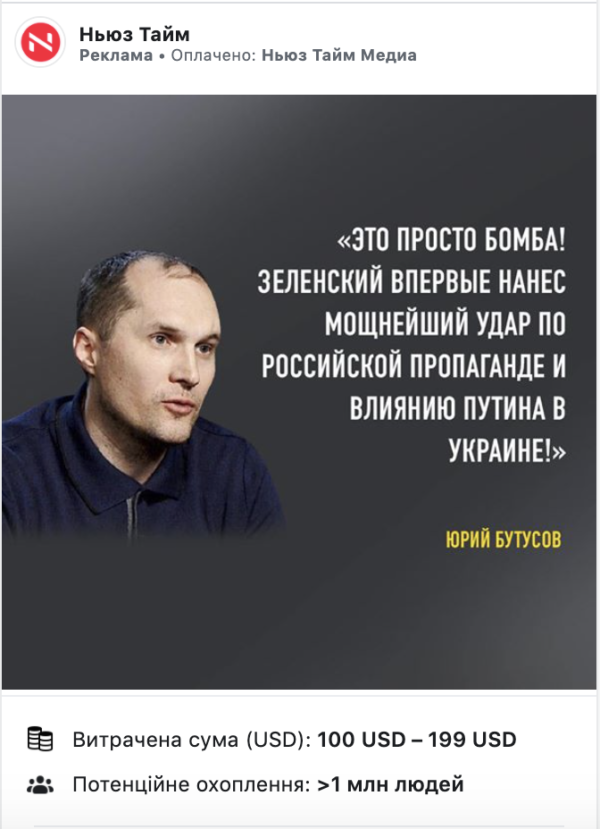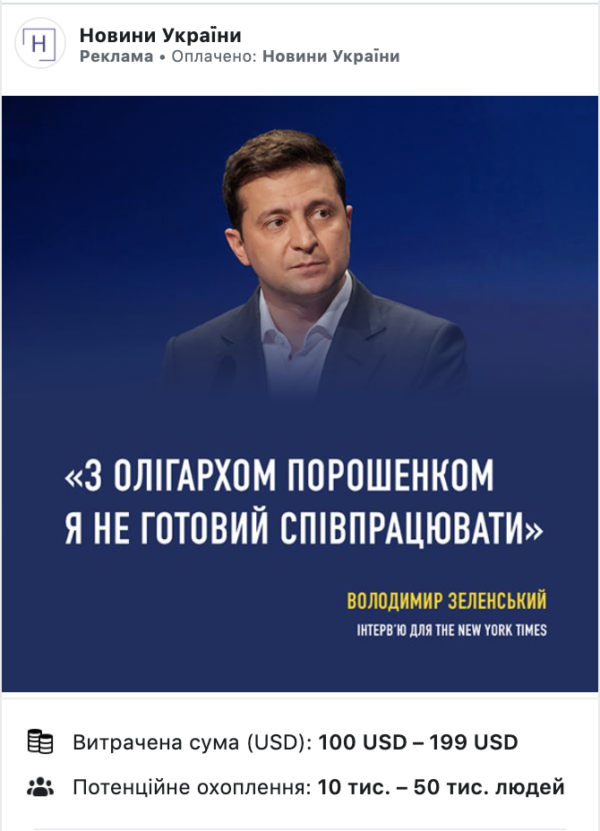 In deep water
The network activities appear to have been violating Facebook policies that discourage users from using fake accounts and obscure identities to boost content engagement in coordinated efforts.
Possible state funds embezzlement
Political ads alone cost the network accounts and groups about $30,000. Needless to say that such influence campaigns in reality bear a heftier price tag since you have to hire social media influencers and political experts to push the president's office agenda and rhetoric.
The president officials fail to disclosure their expenses on social media campaigning.
Shadowy influence campaigns on Facebook now appear to be only the tip of an iceberg.
On November, 2020, the Ukrainian president's senior official Mykhailo Podolyak revealed the plan to engage social media influencers and bloggers in promotion of "positive" political narratives on social media platforms.
Shortly after, pro-Zelensky bloggers were back to work assailing Poroshenko finding the pretext in his mother-in-law death story.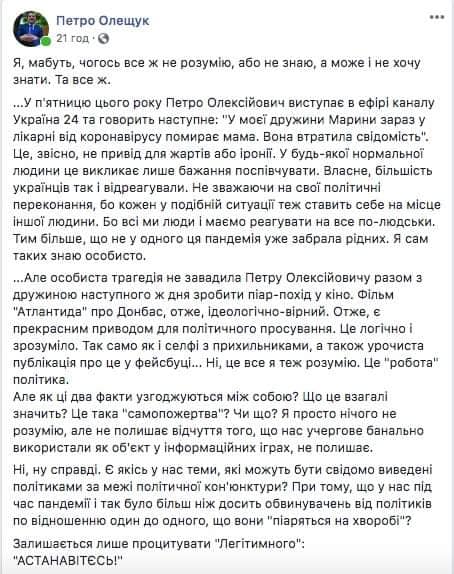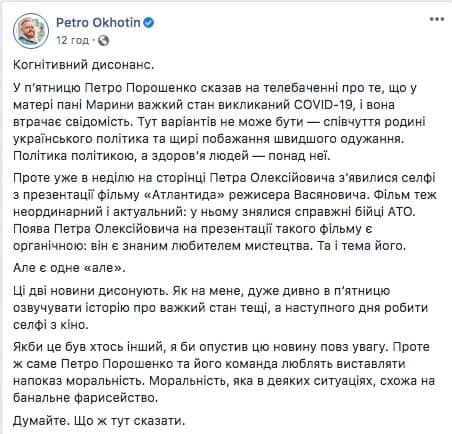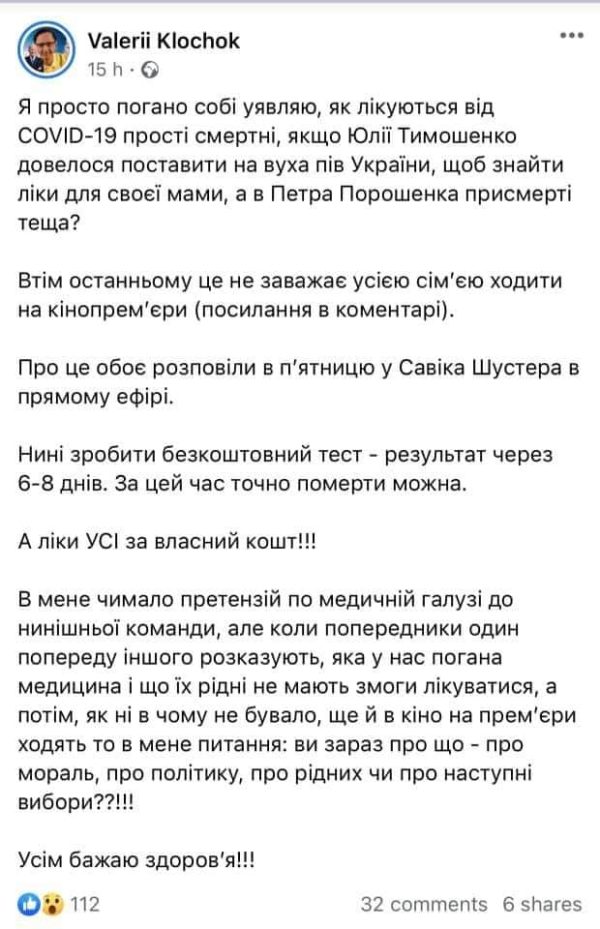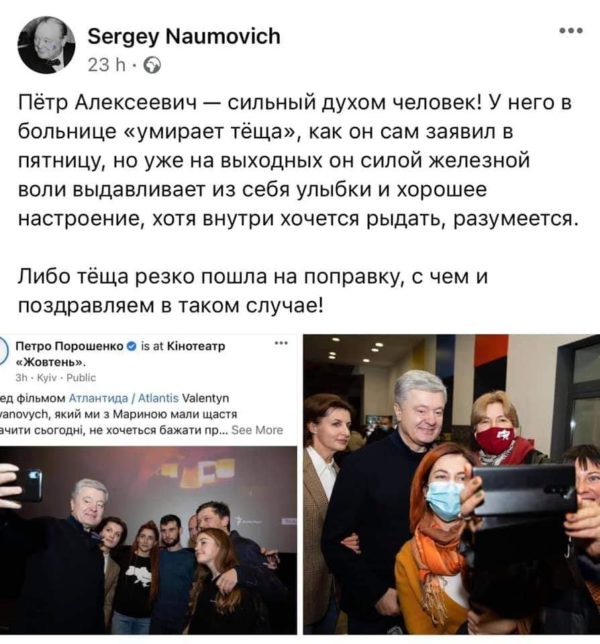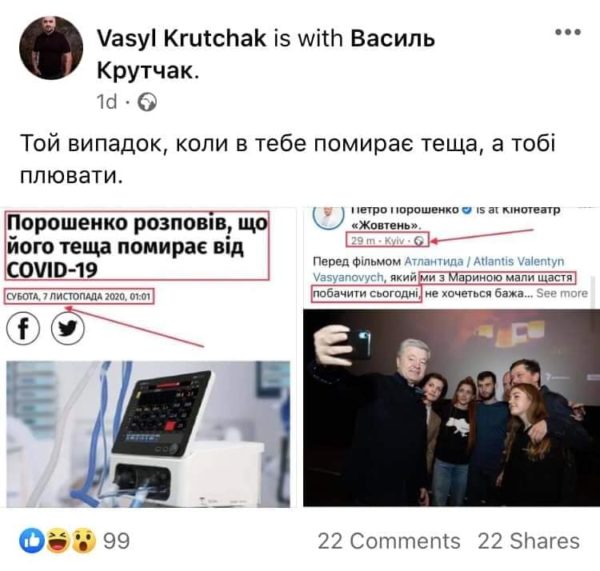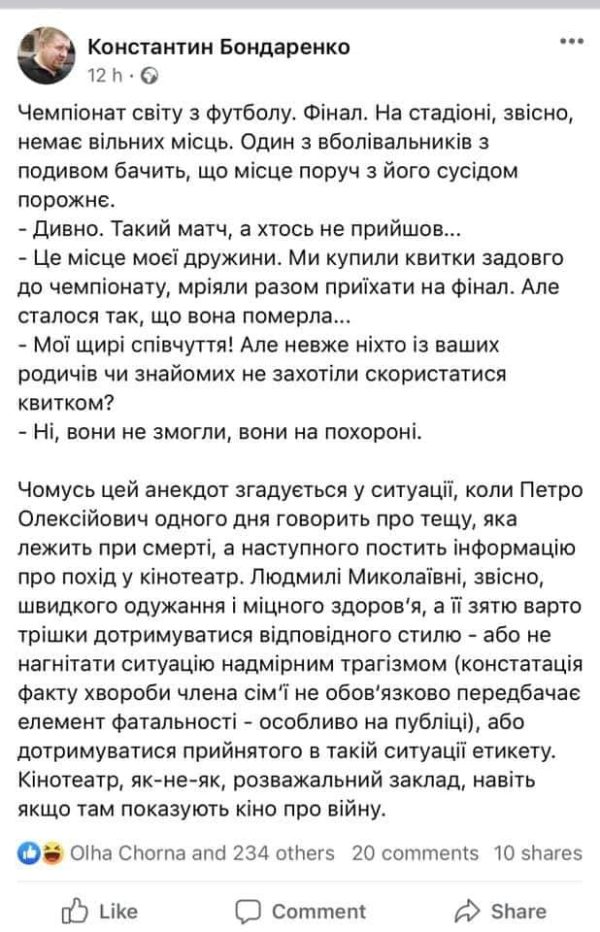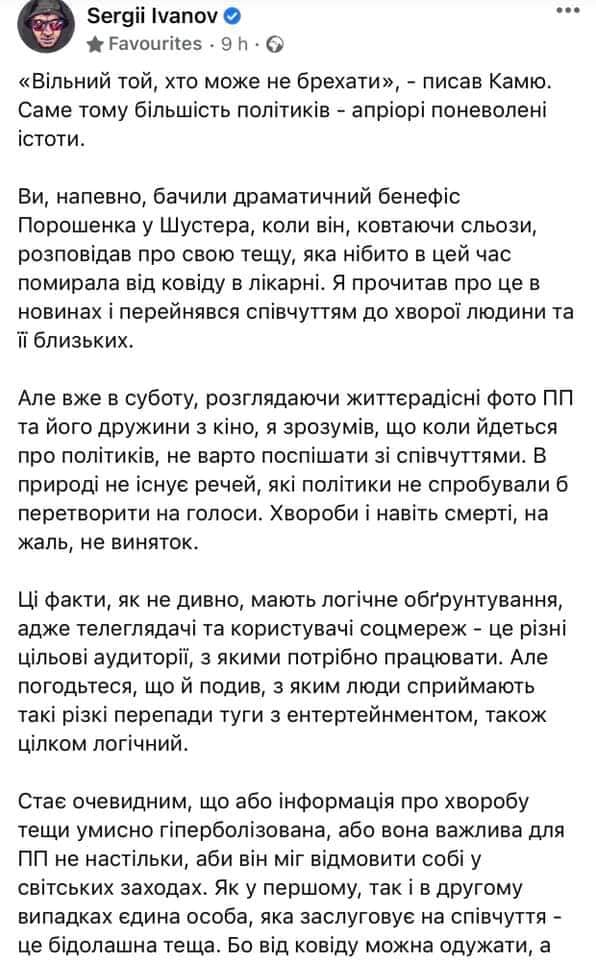 With the investigation on Ukrainian officials mind games on social media, "Bukvy" aims, in good faith, to inoculate Ukrainians from misleading 'news' and 'opinions' of social media 'influencers' paid to mock political opponents. Hopefully, next time you scroll Facebook news feeds, you will have a good judgment of suspicious accounts, sensational 'news sites' stories, and unfounded claims against "Him-who-must-not-be-named".