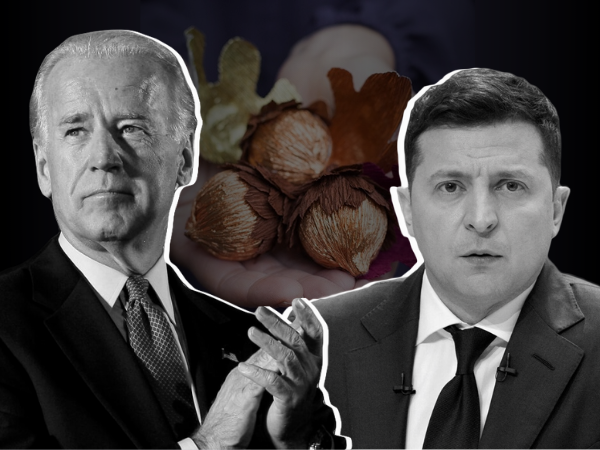 Viktor Yushchenko called for the democratization of Cuba and Belarus, he also made an unsuccessful attempt to receive a NATO Membership Action Plan (MAP). Viktor Yanukovych granted several dozens of kilograms of enriched uranium to be able to shake hands with Barack Obama. Petro Poroshenko achieved the removal of embargo for supplies of lethal weapons to Ukraine and reached the resumption of the U.S.-Ukraine Strategic Partnership Commission functioning.
It is rather naïve to consider the fact that during the phone conversation on June 7, 2021 Joseph Biden invited Volodymyr Zelensky to visit the White House to be an outstanding accomplishment of the Ukraine's President.
The USA is interested in Ukraine as in a counterbalance to the Russian Federation. Washington has room for manoeuvre as Russian's bear paw was stuck in a straw bull, which Ukraine resembles today. 'It is nothing personal – strategic interests only.' That is why it is not useful for the USA to betray Ukraine and let Putin torture it.
Washington and Moscow – both in their own manner – are raising rates in mass media on the eve of the Biden-Putin summit which will take place in Geneva on June 16, 2021.
In his interview with Axios, Volodymyr Zelensky announced loudly that he was ready to meet Biden face to face before a June 16 U.S.-Russia summit 'at any moment and at any spot on the planet.' On hearing this, many people might have remembered his long way home from Oman in January 2020.
In his dialog with his U.S. colleague (we do not know the details of their phone conversations) Zelensky is demonstrating emotionalism. It looks as though he is trying to prove himself and others that he is Biden's (and not only his) equal. It causes serious misunderstandings between Kyiv and Washington.
The incident with the correction of the information about the phone conversation between Zelensky and Biden shared on the website of the President's Office will someday be incorporated into inter-state communications textbooks.
It is very difficult to explain (from the point of view of international and interpersonal relations) why Biden was attributed the statements of support for Ukraine in granting it a NATO MAP and Zelensky's argumentation on the issue of 'Nord Stream – 2'.
Zelensky's interview with Axios shows that on Bankova Street they know how to supply the President with the high-sounding words deprived of deep understanding of energetic interests of and priority issues for the USA.
There is completely no logic in trying the patience of a powerful partner which already has many reasons for doubting the expedience of strategic relationships with Ukraine.
The sanctions imposed by the Trump administration onto Andrii Derkach and Oleksandr Dubinskyi are not likely to be lifted by the administration of Biden. This is the case in which praised by Ukrainian politicians Biden's great awareness of Ukrainian realities is playing against Ukraine. Emotionality will not help to change anything.
It is very frustrating to see Ukrainian-USA relationships becoming an object of lobbying competitions, in which Ukraine plays as number two player.
Nobody explained to Zelensky that fair lobbying is a part of the U.S. political culture.
The head of the President's Office dealt in his interview with CNN on his 2019 conversation with Kurt Walker and Rudolf Giuliani. He expressed his view that during the last two years Ukraine has been doing everything correctly in its relationships with The USA.
If one translates this from Yermak's language to a commonly understood one, it will turn out that an attempt to impeach Donald Trump after his conversation with Volodymyr Zelensky, the absence of a U.S. Ambasador in Ukraine since 2019, Pentagon's intentions to cut off the U.S. military aid to Ukraine by 10% are normal and correct.
Moreover, the U.S. officials who are aware of Ukrainian political realities, are making it clear that Yermak is an obstacle to the development of the U.S.-Ukrainian bilateral relations.
After the conversation between Biden and Zelensky, the U.S. Secretary of State Antony Blinken not just stated that the USA supports Ukraine's intentions to join NATO, but also reminded what the White House expects Ukraine to do before the two presidents meet.
These expectations are connected with the establishment of an independent judicial system in Ukraine, corporate transparency of Ukrainian enterprises (Washington officials signalled that they noticed the way in which the Chairman of NJSC 'Naftogaz of Ukraine' Board had been changed), and actual implementation of anti-corruption legislation.
Kyiv's reaction to the above mentioned messages was expressed in Davyd Arakhamia's accusations of the opposition fractions, which did not want to vote for the decisions essential for resuming Ukraine's cooperation with the IMF. Arakhamia forgot to specify what happened to the 'mono-majority' of the 'Servant of the People' and the majority of 'servants' represented in all the Parliament's subject matter committees though.
The current state of the U.S.–Ukraine relations shows that seeking for Biden's (or any other U.S. President's) approval is not the right way to act. Ukraine needs internal changes and institutional partnership which it can reach thanks to the resumption of the U.S.‑Ukraine Strategic Partnership Commission functioning and attempting to become a major non-NATO ally of the USA in the nearest future.