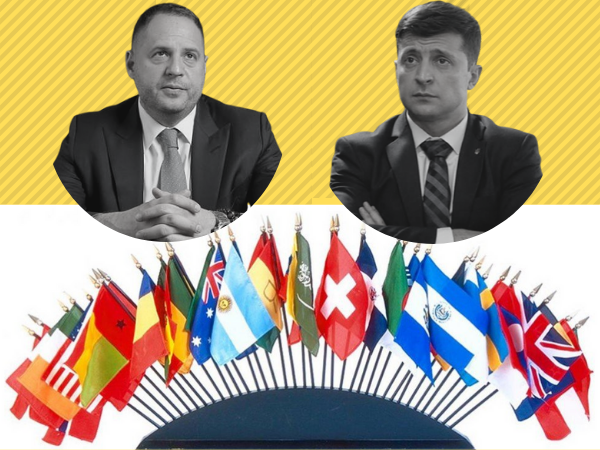 Strategic foundations
Petro Poroshenko, at the time of his presidency, took flak over his focus on foreign policies of Ukraine. His course got an immediate overhaul once Zelensky was voted into the office making Andriy Yermak and Ihor Zovkhva, his top foreign policy advisors. Both of the newly appointed officials were diplomatic novices with no experience.
In the world of diplomacy, bringing in new faces often proves to be a disadvantage. Seeking the team reshuffle, Yermak is now planning to bring in Ukraine's EU representative Mykola Tochytskyi in the place of Zovkhva who is reportedly going to be made an ambassador in one of Gulf countries.
Volodymyr Zelensky so far has been rather unsophisticated in his approach to foreign policies. Not surprisingly, official reports on his foreign trips often bear a mention of Zelensky's 'big investments' deals he brings home. In reality, Ukraine's National Bank reports capital outflow estimated at 850 $ million.
Regular shake-ups at diplomatic missions are a common occurrence worldwide.
Once enshrined, an ambassador role today is obviously losing its near-mythic status, and Ukraine's diplomacy also has to deal with it. The veteran diplomats though admit that Andriy Yermak is tightening his grip over ambassador nominations.
Vital points 
Covid pandemic put things into perspective exposing hits and misses of Zelensky diplomacy. Surely, Ukrainian diplomats must be given credit for bringing home 250,000 Ukrainians in the wake of pandemic. At the same time, Zelensky is hardly delivering on his promises of getting vaccines for Ukraine and his lame efforts brokering such deals are hardly as successful as his earlier stand-up numbers for the variety show "Kvartal 95".
US-Ukraine relations that were not really dynamic 'sprang back' soon after Russia started to rattle sabres near the Ukrainian borders. Then came news of US Secretary visit to Kyiv and telephone call between Volodymyr Zelensky and Joe Biden, which can hardly be regarded as serious accomplishments of Ukrainian diplomacy.
When Zelensky publicly asks Biden "why is Ukraine still not in NATO?", it is more about publicity stunt than diplomatic strategy.
The country faces a problem of institutional contacts. Bringing in Oksana Markarova, the financier with no experience in diplomacy, in place of the Ukraine's Ambassador to the US Volodymyr Yelchenko is a risky move. Yet it is still not the biggest concern.
In the last days of Donald Trump's presidency, the US officials blacklisted Ukrainian MPs Andriy Derkach and Oleksandr Dubinskyi sanctioning them as 'Russian agents'. Exposures like this can hardly help re-invigorate Ukraine –US bilateral relations.The US administration has delayed nomination of the US Ambassador to Ukraine for two years. There is active Chargé d'Affaires Kristina Kvien but her activities can not compensate for the situation.
No doubt that the US is still supportive of Ukraine and will continue to help the Ukrainian military but the optimism is waning. Dismissal of 'Naftogaz' CEO Andriy Kobolev and new revelations about Andriy Yermak call with Rudi Giuliani will not go unnoticed in Washington.
Meantime, Ukraine-Russia relationship sees the different dynamics. There were some concessions to the Kremlin and the active part of Ukrainian society had to step in to curb the enthusiasm of the impulsive Ukrainian president who has such a pronounced wish 'to look into the eyes" of Putin.
The compromises Zelensky is seeking with Russia hardly find support from Ukrainians, and a face-to-face meeting with Putin he is now staging can have the adverse results for Ukraine's sovereignty.
The Kremlin still has ill-intended plans on Ukraine. It wants to regain its sway over the Ukrainian lands or, alternatively, to break it into several parts having the minimum of self-governing rights.
Blossoming integration plans
Ukraine's aspiration to join NATO and the US is now part of its Constitution. Zelensky is talking about his commitment to the idea but has done little toward that goal. He may claim some credit though for getting Ukraine the status of NATO Enhanced Opportunities Partner in 20202 but his recent political campaign  seeking NATO membership action plan (MAP) does not look earnest and convincing.
Euro-Atlantic integration is a complicated procedure and you can neither rely on conjuncture of circumstances nor expect European leaders to be overly excited over your spontaneous move to get it. The lessons learned from the Ukraine and Georgia's 2008 application for MAP should be definitely revisited.
Sure, we can count on backing from the US, Great Britain, Poland, and Baltic states. Still, it would be wrong to believe that we will enjoy undivided support from all the member states.
Joining the EU is also a long shot for Ukraine given the attitude of key European countries like France that rule out this option for our country in immediate future. To make things worse, Ukraine itself has done a lot to alienate partners in the West. Dismissal of Naftogaz' CEO is just one example of the policies denting our EU membership prospects.
A recent war scare at the Ukrainian borders came as a litmus test. Volodymyr Zelensky was made to wait for three weeks to get a chance to raise the issue in a call with Angela Merkel and Emmanuel Macron. When it comes to our expectations from the EU countries, we must keep things in perspective. What's more, Germany and France were also behind the decision that restored Russia's presence in the Council of Europe drowning out the Ukrainian delegation appeals. Our country lost the platform that saw Ukrainian diplomatic victories.
There is also 'Normandy format' talks' impasse. Prospects of this negotiating format are in serious doubt given the challenges it faces. Zelensky's attempts to arrange one-on-one talks with his Russian counterpart can undermine trust from Germany and France. His call for 'Normandy format' expansion by bringing in the US, Great Britain, and Canada has also been met with distrust. According to reports, Zelensky's team is now in a scurry to find a place for talks with Putin. The proposed list includes Vatican, Jerusalem, Vienna and counting though Zelensky still got no 'hard' yes to it from Putin.
Neighbors and partners
Warsaw, another strategic partner of Ukraine, in now trying to hide disappointment over Kyiv's policies and is obviously 'envious' of Berlin's involvement in Ukrainian matters. Advocating Ukraine's interests for 20 years, Poland has failed to find much diplomatic success but formally relations of the two neighbors never soured. Unresolved history disputes are still perceived as a stumbling block for politicians in Kyiv and Warsaw. During the recent talks, Ukrainian deputy prime minister Oleksiy Reznikov and his Polish countepart Yaroslav Govin managed to 'resuscitate' the economic cooperation commission that had been inactive for four years. It is obvous that Covid pandemic has hardly crippled Ukraine-Poland trade but political dialogue needs to be widened.
Zelensky was confident that he could iron out the differences in relations with Hungary. The language issue, understandably, appears to be not as important for him as it was for his predecessor Poroshenko. Dealing with pressure from the EU, Budapest comes at Ukraine to give vent to its own annoyances. Hungarian president visit to Kyiv is still in question and the current trajectory of diplomatic dialogue with Budapest faces an uncertain future.
Slovakia, another Ukrainian neighbor, landed in a scandal when its prime minister Igor Matovič made a joke about his intent to swap Ukraine's Zakaprattya region for two million doses of 'Sputnik' vaccine. The diplomatic faux pas cost Matovic his post and proved upsetting for Ukraine.
For long, nothing has clouded Ukraine's relations with Baltic countries. They have always been supportive of Kyiv agenda on the international scene. But things do not look rosy. Estonia's president cancelled her April visit to Kyiv while Lithuania's president, making a speech in Verkhovna Rada, urged Ukrainian MPs to cut electricity exports from Belarus. Gitanas Nauseda pushed for it publicly after his appeals allegedly had found no understanding with Zelensky's officials.
In 2020, Ukraine joined Poland and Lithuania to establish 'Lublin triangle' initiative that aims to bolster regional safety and stability.
Relations with Belarus now face a downturn. Ukraine reacted to Lukashenko policies by sanctioning his top officials and imposing restrictive tariffs for Belarus trucks and buses. Yet Kyiv failed to invite Svitlana Tykhanovska, Belarus opposition leader who symbolized the protests that rocked the country after Lukashenko refusal to leave.
With Minsk propaganda routinely berating 'Zelensky's regime', Ukrainian officials are struggling to find a convincing asymmetrical response.
The bottom line
Ukraine's dialogue with former Soviet Union republics is going to suffer new setbacks. Recent statements by Mykhail Saakashvili who is eager to regain his influence in Georgia, made official Tbilisi recall its ambassador from Ukraine and dented the relations between the countries. Idyllic picture of Moldova's president visit to Kyiv was soon marred by kidnapping of the Ukrainian judge Mykola Chaus in Chisinau. The scandal can prove costly for Maia Sandu's party in future parliamentary elections.
Zelensky is seen, and for a good reason, advancing Poroshenko's policies in dialogue with Turkey. The two countries have 'Quadriga format' that brings together their foreign ministers for frequent consultations. Security policies in the Black Sea region and military cooperation with Ankara have a good potential and can help to strengthen Ukraine's ties with the Islamic world. Zelensky's visits to Gulf countries so far have failed to produce a serious effect but the Turkish leader is eager to find compromises with Kyiv as long as it helps him advance the idea of free trade zone with Ukraine.
Overall, Zelensky's foreign policies have been dialectical. While the president trumpets the news about his successes, his office acts as a 'shadow' Foreign Ministry with the duet of Yermak and Zovhkva in charge, and Ukrainian diplomats across the world are still doing their best, facing usual resources constraints.